Leading With Authentic and Inclusive Messaging
July 29, 2020 @ 12:00 pm

-

1:00 pm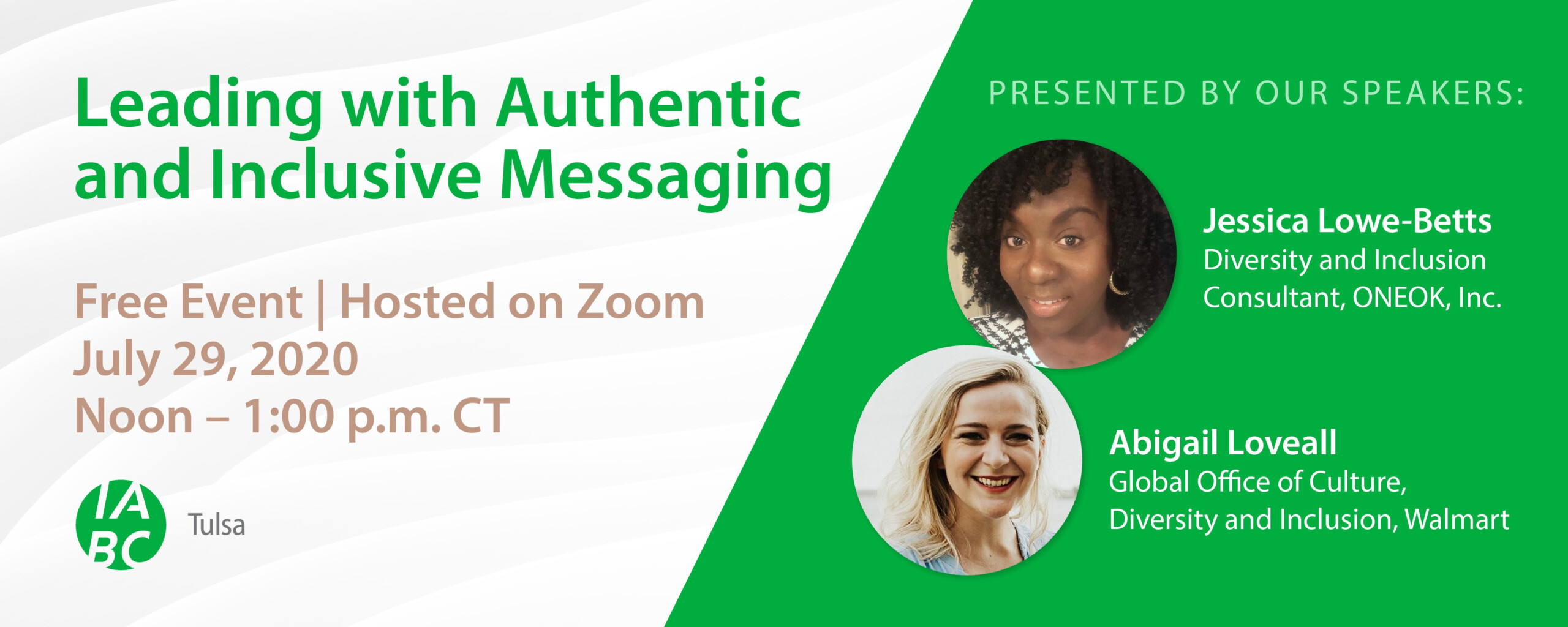 During times of unrest and change, communicating your company's values with authenticity can be a challenge.
Balancing tone, message and relevance, particularly while navigating issues you may not be an expert in, leaves many communicators fearful of missteps and uncertain about how to guide their organizations.
Join panelists Jessica Lowe-Betts and Abigail Loveall who will share how their organizations are working to communicate inclusively – both internally and externally. A member of Tulsa's Race Massacre Centennial Commission, Lowe-Betts will also give you a primer on Tulsa's history with racism and how you should consider history when communicating today.
During this session, panelists will discuss:
Which terms you should use and when – black, African American, people of color.
How to consider history with race and other events when communicating today.
What to communicate if your company doesn't have a dedicated Diversity and Inclusion department or a strong track record of work in this space.
Resources you can use to constructively discuss race.
When: Noon to 1 p.m. CT July 29
Where: Zoom meeting
Fee: Free
Speaker Bios
Jessica Lowe-Betts is a Diversity and Inclusion Consultant for ONEOK, Inc. Her responsibilities include supporting the company's Diversity and Inclusion strategy to positively impact ONEOK's corporate culture and mission to be an employer for choice for all identities. Before joining ONEOK, she was Vice President of Marketing and Branding for Tulsa Regional Tourism, a division of the Tulsa Regional Chamber, where she also served as chair of the Diversity and Inclusion task force in 2010 and co-chair in 2018. She is a steering committee member for the 1921 Tulsa Race Massacre Centennial Commission and chairs the marketing and public relations subcommittee. In 2015, she was recognized as one of Tulsa Business and Legal News' 40 under 40 recipients and is a member of the Tulsa Regional Chamber's Workforce Diversity Council, Mosaic. Jessica attended Langston University where she received a Bachelor of Arts degree in Broadcast Journalism and is a 2013 graduate of the U.S. Chamber Institute of Organization Management (IOM).
Abigail Loveall is a communications manager for the Global Office of Culture, Diversity and Inclusion (CDI) for Walmart, primarily responsible for graphic design and communications for CDI. Within Walmart, the Global Office of Culture, Diversity and Inclusion's mission is to create an inclusive culture for all associates who work at Walmart, as well as customers in the store. Originally from Kansas City, Mo., Abigail joined Walmart in 2013 after graduating with a bachelor's degree in Journalism from the University of Missouri. She currently lives in Bentonville, Ark.