Tricks and Trends for Digital with Noel Freeman
July 11, 2018 @ 11:30 am

-

1:00 pm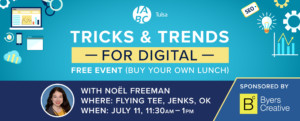 With the digital world always changing, it is hard to stay on top of what the "best practices" actually are. And even if you know, how do you begin to execute them? In this luncheon, you will learn the top 10 most successful things you can post on social media, along with some cool tricks and hacks. You will also leave with new, amazing, FREE apps you can use to implement designs, gifs, videos and more on your social media platforms. Things you didn't know existed will be at your fingertips! We will also take a closer look at a simplified version of what SEO is, and how you can do it yourself without spending crazy amounts of money on Google AdWords. 

Come ready to learn:
·
Top ten tips for what to post on social media
·
LinkedIn: best practices
·
Easy apps that will make your life easier  
·
SEO tricks and tips
·
Closer look at Google Analytics
·
Google review hack
·
Best practice for websites
When: 
11:30 a.m. to 1 p.m. July 11 
Where: 
Flying Tee, 600 Riverwalk
Terrace, Jenks, OK
Fee: 
Free to attend; just buy your lunch at Flying Tee!