Using Emotional Intelligence as Professional Communicators
August 19, 2020 @ 12:00 pm

-

1:00 pm

Free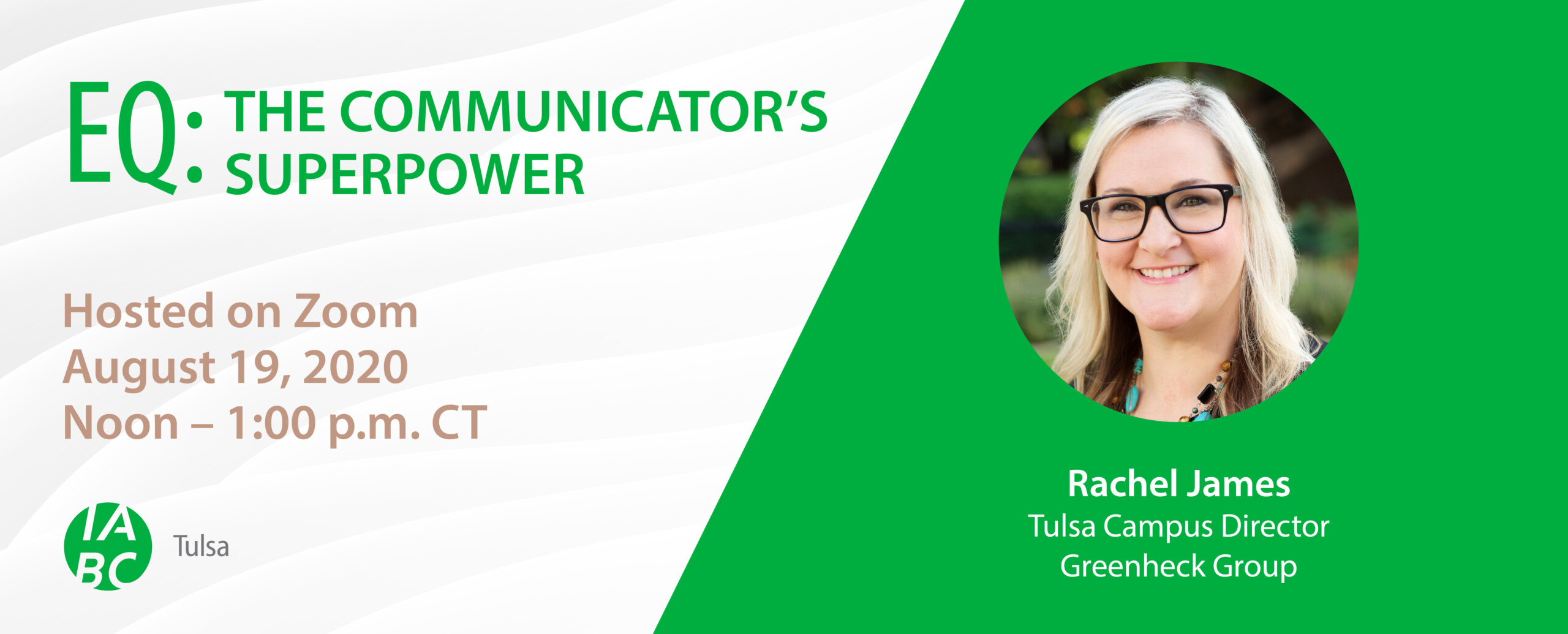 Emotions play a major part in how we communicate. Our ability to use emotional intelligence to develop
relationships and connect with an audience is a significant skill for any professional communicator to
master.
With a global pandemic, economic uncertainty, and ongoing calls for systemic change, emotional
intelligence can help communicators develop a greater ability to influence, persuade, and connect with
others, which ultimately leads to better outcomes and results.
Rachel James has spent her career working with professionals in all sectors, leveraging emotional intelligence skills toward the overall development of better communication and persuasion skills.
You'll Learn:
• The components of Emotional IQ in the workplace
• How to become more self-aware of your own strengths and weaknesses – and their effect on others
• How to build skills like empathy and social relations, even if they don't come naturally
About Rachel James:
Rachel James joined Greenheck Group in January 2019 to lead the global manufacturing company's new Tulsa campus, which is projected to grow from zero to more than 600 employees in the next five years. Her focus at Greenheck includes community relations, strategic partnerships and employer-of-choice initiatives.
Rachel has over 15 years of experience in public relations, leadership consulting, freelance journalism and communications for the nonprofit, education and business sectors. Prior to joining Greenheck Group, her roles have included VP of inclusion and account services for Schnake Turnbo Frank, a PR and management consulting firm, and VP of communications and marketing at the Tulsa Regional Chamber.
Rachel is a graduate of Leadership Oklahoma and Leadership Tulsa. Currently, she serves on the boards of directors for Workforce Tulsa, DVIS, the Tulsa Day Center for the Homeless and Tulsa Manufacturers' Council. Rachel is a member of Mosaic Tulsa, the Oklahoma Manufacturing Alliance, the Tulsa Regional STEM Alliance advisory committee, the Tulsa Regional Chamber's board of advisors, the Tulsa Press Club and the Public Relations Society of America.
Rachel graduated summa cum laude and "with honors" from Northeastern State University, where she earned both her bachelor's degree in journalism and a master's in communication.