Each month, IABC/Tulsa features one of its members in the "Meet A Member" section of the newsletter. In this issue, we learn more about Chris Owen, director of Marketing and Communications for RL Hudson.
IABC/Tulsa: Tell us why you love your job.
Chris: It's really simple – I like the variety and the creativity of my job.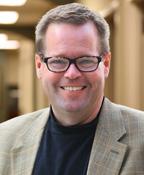 IABC/Tulsa: How long have you been a member of IABC?
Chris: I have been a member more than 10 years.
IABC/Tulsa: What is the best meeting/seminar/conference you have ever attended?
Chris: There have been too many good ones to choose just one, but I learned things from Ann Wiley's writing seminar that I attended eight or nine years ago that I still use today. And, yes, I think she is awesome.
IABC/Tulsa: How has IABC played a part in your professional development?
Chris: Being a part of the chapter has given me a broader understanding of the communications profession. I've also learned a lot from the IABC publications I've bought over the years. The most important way that IABC has helped me professionally though, is through the Bronze Quill awards.
The main benefit I see from participating in the Bronze Quills is the validation it provides within my company that the work we are producing is of excellent quality. And of course, the CEO is always pleased to see the company recognized in the community. It's also been helpful for me to have the goal of a Bronze Quill entry in mind as I plan a communications project. Knowing that I will have to explain my goals and provide data encourages me to me more purposeful in my planning and execution.
IABC/Tulsa: What's your favorite restaurant?
Chris: My favorite restaurant was Lola's and I haven't found a replacement yet.
IABC/Tulsa: What's your favorite thing to do outside of work?
Chris: I enjoy reading nonfiction, going to movies, art, music and walking outside. I am a single dad with four kids living at home and I spend most of my free time with them. It's a lot of fun.
IABC/Tulsa: Who is your favorite musical artist?
Chris: iTunes says it's Van Morrison.
IABC/Tulsa: The future of the field of communications…
Chris: …will be a surprise to all of us.
IABC/Tulsa: What advice would you give to communications professionals who are just entering the workforce?
Chris: Same as my advice to my kids: Do as I say, not as I do.