We're ready to celebrate! Are you? Every year we have the privilege of honoring your work at our annual Bronze Quill Awards: an event that allows us to showcase the talent, passion and creativity of our local communicators. Find inspiration from each other and elevate the field of communications.

We look forward to hosting you and your guests at the wonderful Tulsa City-County Library in the Tandy Garden. Whether you submitted an entry or not, join us for a fun evening of networking and celebrating each other's successes.

Remember all Bronze Quill entries are judged by other IABC chapters across the country. Which means, those chapters need judges too. Volunteering to judge is a great way to volunteer at your convenience and gain some professional development along the way. Don't forget time spent judging counts towards development hours for the CMP and SCMP certifications. If you are interested in joining our Judges Circle, please let us know.

"If you just communicate you can get by. But if you communicate skillfully you can work miracles." – Jim Rohn

Cheers to all the miracle workers out there.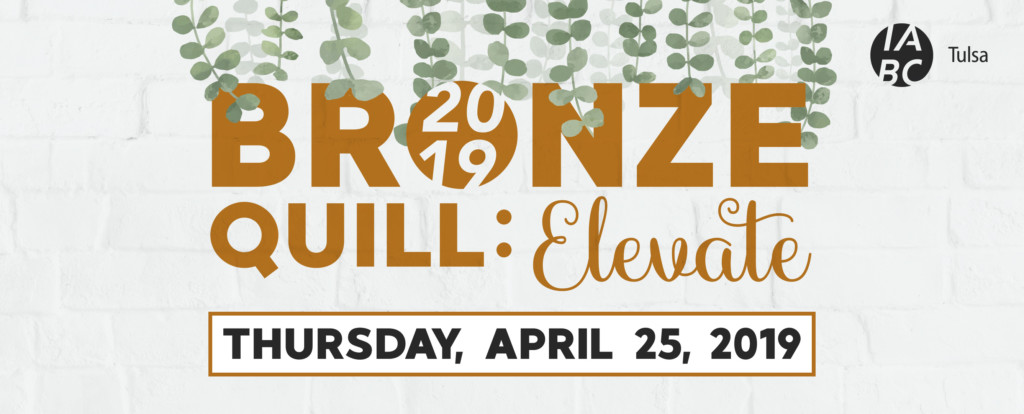 Join Us for the 2019 Bronze Quill Awards Celebration

The annual IABC Bronze Quill event is a celebration of communications. Bringing a diverse network of communication professionals together for a fun evening of networking and recognition of outstanding work in our field. This event is open to all communicators – members and non-members alike – plus their friends and family. Join us as we celebrate those who elevate the communications profession.
Don't forget to invite your spouse, friends and coworkers to help us celebrate!
When:
Thursday, April 25, 2019 at 6 p.m.
6:00 p.m. – Check in and cocktail hour (wine, beer and hors d'oeuvres included)
7:00 p.m. – Dinner (dietary restrictions accomodated, including vegetarian and gluten free) and Awards
Where:
Tandy Garden at Tulsa City-County Library
400 Civic Center, Tulsa, OK 74103
(Free parking available in garage)
Attire: Business formal or cocktail (note: event will be held outside)
Thank You Sponsors:
Presenting Sponsor: Helmerich & Payne
Platinum Sponsors: ONEOK, Cherokee Nation Businesses
Gold Sponsor: Williams
In-Kind Sponsors: Byers Creative, Miller Photography, Ridgeback Studios
Mother Road Market: Using PR and Marketing to Create a Destination

In November 2018, one of the area's most anticipated new destinations opened. Mother Road Market – Tulsa's first food hall – was a labor of love led by the Lobeck Taylor Family Foundation, and just six months after its grand opening, the space already is a "go-to" for gathering, community and really awesome food.

Join Chief Communications Officer Ashley Van Horne and Communications and Events Coordinator Breckyn Hudelson of the Lobeck Taylor Family Foundation to learn about the communications efforts behind Mother Road Market. From branding and marketing to PR and internal communications, we'll learn about everything that goes into placemaking.

And … you'll get to see and sample what the Mother Road Market is all about!

What You'll Learn:
The role of community development in placemaking, including how to build an audience and leverage brand champions. Lessons learned from creating a brand from scratch.The role of communications at the executive leadership level.Planning and executing an influencer campaign, growing a following from zero and the importance of voice in earned and social media. The importance of messaging and managing communications between teams.
When:
11:30 a.m. to 1 p.m.
May 7
Come early to grab food from the Mother Road Market vendors. Attendees will receive a food voucher to order their own food. Program will start promptly at noon.
Where:
Mother Road Market (Demo Kitchen), 1124 S. Lewis Ave., Tulsa, OK 74104 (parking instructions here; Mother Road map here)
Fee:
IABC Member fee: $25
IABC Non-member fee: $35
Student fee: $15
How to Curb Gender Bias

If you missed last month's professional development event, here is a quick tip from March's speaker on how to curb gender bias in meetings: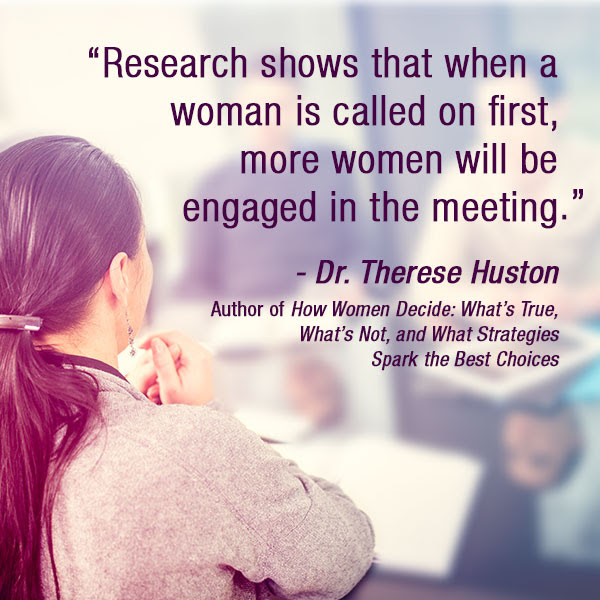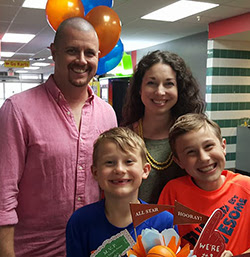 Meet a Member: Noël Freeman
Title: Marketing Strategist

Company: Byers Creative

Why do you love your job? I love my job because I get to meet and interact with interesting and diverse people; relationships are vital to a prosperous life. My co-workers and business contacts bring so much joy to what I do, and I also love the problem-solving aspect of my job. New challenges arise daily, and I love finding innovative solutions.

How long have you been a member of IABC? 1 year

Why are you a member of IABC? I am a member of IABC because of the relationships that help grow me both personally and professionally. I love the speakers IABC hosts, and how each topic gives me insight into the solution for another challenge. I also love seeing people move up in their careers because of connections they made through IABC.

What is the best IABC meeting/conference you have attended? Why? The 2018 Communicators Summit in Tulsa. There were so many awesome speakers in a one-day conference, and I love gleaning new ideas from professionals who are more experienced than I am.

How has IABC played a part in your professional development? Every IABC event gives me better perspective and equips me to make better decisions as a professional. I serve on the board and work with some awesome people from a variety of different industries. We all work seamlessly together bouncing ideas off one another coming up with concepts and ideas to make a better Tulsa Chapter.

What is the value of your IABC membership? The food. Kidding. I am a people-person, so I really love getting to know different people in the communications sector. My IABC membership allows me to get out of my comfort zone and forces me to learn about other industries and positions.

What is your favorite thing to do outside of work? Since we are not Tulsa natives and have only been here for 3 years, we are still exploring so many cool things Tulsa has to offer. I am happily married and a privileged mom to two little boys, Rylan (age 11) and Kaynen (age 8). We go to sporting events, theater productions, movies, ice cream and tons of new adventures and places we have never seen. We have a physical list that we mark off each time we do something new.

What's your favorite vacation spot? I am tied between the mountains and the beach! I love them both equally. I think my favorite would have to be Venice, Italy, though. I love the ambiance of Europe.

Who is your favorite musical artist? My childhood favorite is Mariah Carey. My current favorites are Amanda Cook, Steffany Gretzinger and the Civil Wars. Sorry I cannot choose one.

Which website or app do you visit daily? Trello! I LOVE my Trello boards. They keep me organized in both my professional life and person life. They are SO easy to use and take a huge burden from me.

What is your favorite restaurant? Fish Daddy's. We try new restaurants every day, and I think we have a new favorite every month.

Complete the following: The future of the field of communications is….. unpredictable… in a good way. If you look back 30 years ago, you will notice huge changes in communication…mostly because of the internet and social media. Everyone now has a voice to say anything they want at any time. With great power comes great responsibility. Use your voice to promote ethics, best practices, kindness and integrity. Remember also, that sometimes there are instances where you need to hold your tongue: "People often forget that what they post today is still going to be around tomorrow and for years to come. Social media is also unpredictable and not private, so be mindful about what you're sending out there because chances are it can come back in the future and bite you in the butt," psychologist and author Dawn Michael, PhD says.

What advice would you give to new communications professionals? Find mentors and always continue to seek knowledge and grow. If you don't know anyone or where to start, join a board you feel passionate about! There are so many untapped resources and organizations to explore. I love gleaning new ideas from professionals who are more experienced than I am.
We Need Your Input: Help Us Pick the Topic for an Upcoming Event

We're already hard at work planning the fall professional development lineup, but we want to know which topic interests you? Pick the topic you are most interested in learning more about:
How Google and other search engines work, how they view your website vs. how searchers view it, and tips on how to improve your website for both.
Google Analytics: What it is, what to look for in the data and how you can use information to your advantage.
Major SEO elements (such as metadata, alt text, on-page vs. off-page content), how they work, what they do and how to improve them.
Improving your SEO through better website content and strategy (writing for improved SEO).
IABC/Tulsa Member Wins Gold Quill
Congratulations to IABC/Tulsa member Beth Harris of Walmart, who will receive a 2019 Gold Quill Award of Merit, Publications at the 2019 IABC World Conference in Vancouver, British Columbia, this summer. In total, 202 entries earned awards, with 86 receiving Excellence Awards and 116 receiving Merit Awards. Ten countries are represented among the winners, which come from a cross-section of public and private sector organizations, both large and small. View a list of the 2019 Gold Quill Award winners here.