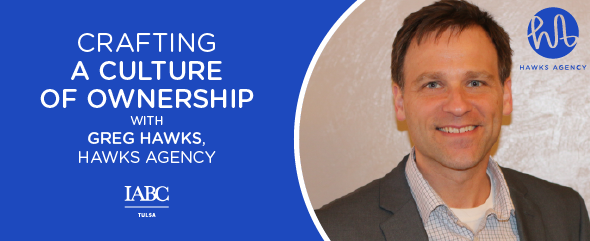 Crafting a Culture of Ownership
Business culture can be described simply as "The way things get done." Every business has a culture; it's essential for organizational success. It's perhaps more tangible, prevalent and impacting on the bottom line than any person or documented policy. Unfortunately, though, few businesses set out to create their cultures intentionally. So how do you transform your work environment in a way that catapults productivity and efficiency?
Join us March 26 as Greg Hawks will help you discover how to deliberately design a culture that produces growth. In this session, he will help you understand the five elements that communicate caring to every employee; discover the four foundational pillars that foster engagement and productivity; and, realize the three benefits from having an intentionally crafted business culture.
All about Greg
Greg Hawks is the lead agent for Hawks Agency in Oklahoma City. With a leadership portfolio spanning both nonprofit and for-profit worlds, he has spent his life investing in people. Through Hawks Agency, he challenges and empowers leaders, teams and organizations to reach for greatness. His history is broadly dynamic. Speaking on platforms around the nation, creating mentoring networks, leading small and large teams, real estate investing, running summer camps, hosting leadership events and producing city-wide projects have equipped Greg to be uniquely qualified to serve you, your people and your business.
When
Wednesday, March 26, 2014 11:30 AM  – 1:00 PM
Where
The Summit Club – Bank of America Building
Governor's Suite – 30th Floor, 15 W 6th Street, Parking ticket validated, Tulsa, Oklahoma
Fees
IABC/Tulsa Meeting (Member Fee) $25.00
IABC/Tulsa Meeting (Non-Member/Guest Fee) $35.00
RSVP
Monday, March 24, 2014