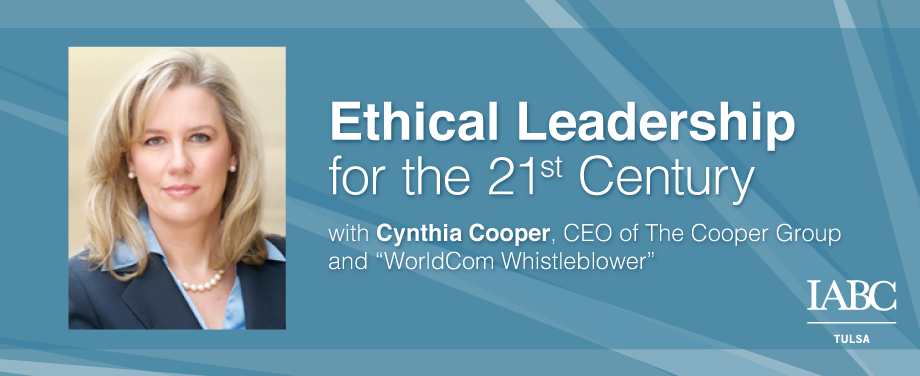 Ethics in Business – Lessons from the WorldCom Scandal
In 2002, Cynthia Cooper led a small team of auditors, frequently in secret and at night to uncover almost $4 billion of unethical and illegal accounting practices at WorldCom, in an effort to inflate assets and stock price. The internal audit team alerted the company's audit committee and board of directors who took swift action. Soon after, the U.S. Security and Exchange Committee began an investigation that uncovered about $11 billion in inflated assets.
What would you do in Cynthia's situation? Everyone hopes they would push for answers by doing whatever necessary to find out the truth about people they probably really like and the company for which they work.
The Oklahoma Business Ethics Consortium, in conjunction with IABC/Tulsa, The Association for Women in Communications and PRSA Tulsa proudly presents CynthiaCooper, CEO of The Cooper Group. Join us Tuesday, Aug. 19, 2014, from 11:30 a.m. to 1 p.m. at the Doubletree Hotel in Downtown Tulsa as Cynthia shares her personal experiences at WorldCom as well as critical ethics and governance lessons from some of the largest corporate scandals.
About Cynthia
Cynthia Cooper is an internationally recognized speaker, best-selling author and consultant. Cynthia and her team unraveled the fraud at WorldCom, to date one of the largest corporate frauds in history. She was named one of Time Magazine's Persons of the Year. In addition to Cynthia, the designation has been given to seven women including Madame Chiang Kai-Shek, Elizabeth II and Corazon Aquino. She also was featured as one of 25 influential working mothers in Working Mother magazine.
Cynthia has been featured in national periodicals such as The Wall Street Journal, USA Today, CFO Magazine and Business Week. She has served on panels with notables such as Brian Williams, Anderson Cooper, Donna Brazile and Grover Norquist, and has appeared on programs including Fox Business' America's Nightly Scoreboard, PBS's Tavis Smiley, NBC's The Today Show, ABC's This Week with George Stephanopoulos, CSPAN's BookTV, CNBC's The Big Idea with Donnie Deutsch and CNBC's Squawk Box.
When

Tuesday, Aug. 19, 2014, 11:30 AM  –  1:00 PM

Where
Doubletree Hotel
Downtown Tulsa
616 W 17th Street
Tulsa, Ok
Fees
Event Registration
IABC/Tulsa Member Fee  $25.00
IABC/Tulsa Non-Member/Guest Fee  $35.00
For more information:
Contact: Jalisha Petties
Phone: 405-889-0498
Email:  okethics@yahoo.com
Please note that this jointly presented professional development opportunity is in lieu of our regular monthly meetings.