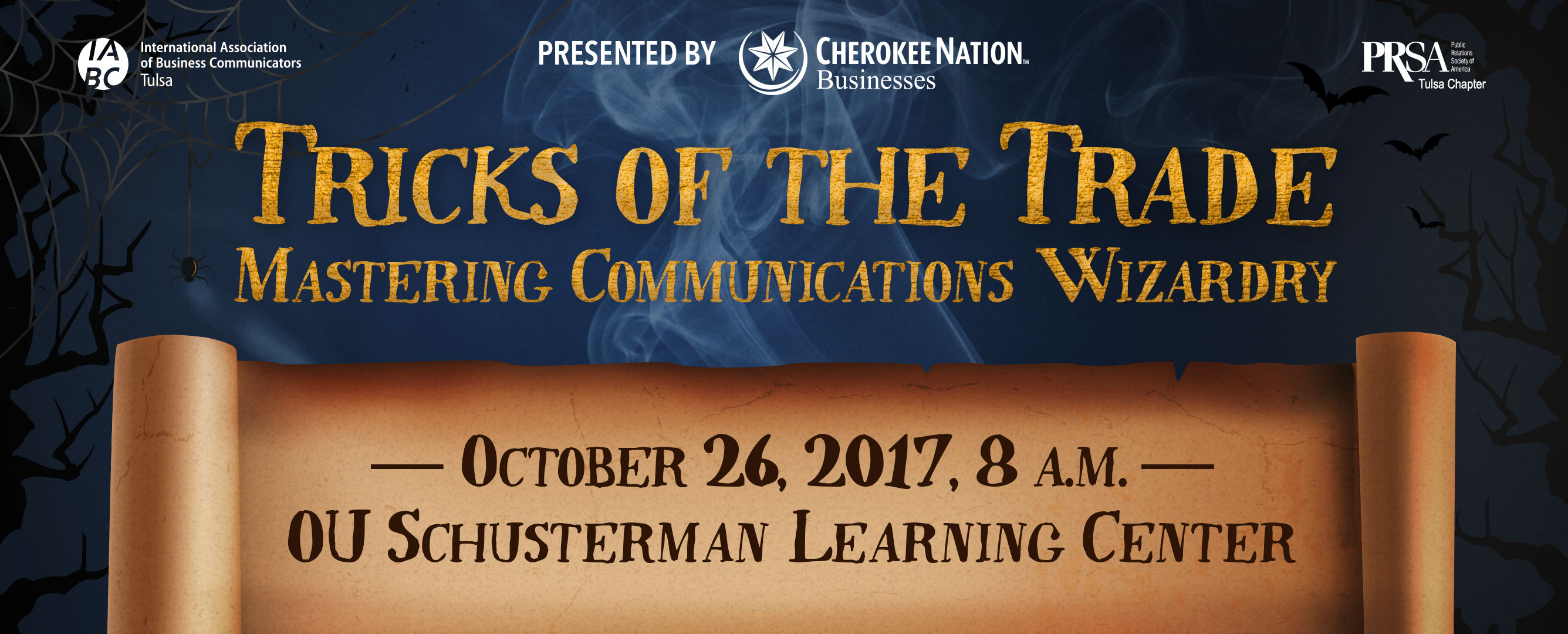 Do you have the right mix of ingredients in your communications cauldron? Are you casting a spell on your audience? At the Communicators Summit, you'll learn some new tricks to help you keep your communications approach balanced and take a peek through the crystal ball at future trends. There may even be a treat involved.
Gini Dietrich, chief executive officer of Arment Dietrich, lead blogger at Spin Sucks, and co-author of Marketing in the Round, will share insights into using an integrated PESO model for improving your brand and business.
When: 8 a.m. to 1:30 p.m. October 26
Where: OU Schusterman Center Learning Center, 4502 E. 41st St., Tulsa, OK  74135
Fee (full day): IABC Member fee (early bird): $65
IABC Member fee: $75
IABC Non-member fee/Guest fee (early bird): $80
IABC Non-member/Guest fee: $90
Student fee: $40
Fee (lunch only): IABC Member fee: $40
IABC Non-member fee/Guest fee: $50
Run of Show
Registration/Welcome:                  7:45 to 8:15 a.m.
Keynote:                                         8:15 to 9:30 a.m.
Why Communicators Should Embrace the PESO Model
Gini Dietrich, Arment Dietrich
A recent conversation with an executive at a global 500 organization revealed that the biggest challenge she has with communicators is they start with tactics instead of strategy. What if we had a framework that, when integrated into a complete communications campaign, gave us the strategy to start? And what if that strategy was complete with measurement so we could finally prove we're an investment, not an expense?
The PESO model, introduced by Gini Dietrich in the book 
Spin Sucks
, does both of those things while moving PR from media relations to an integrated strategic communications method.
Join the author herself to learn:
How to use paid, earned, shared, and owned media to bring the PESO model to your organization

Case studies on how other organizations have used it successfully

Examples and ideas to get started

What to measure and how to prove effectiveness
Break                                                 9:30 to 9:45 a.m.
Session 1:                                          9:45 to 10:40 a.m.
Finding the right ingredients for solving problems
Nancy Corbett, Mercy Health
We live in a fast-paced world and crisis situations can escalate quickly. Especially in a highly competitive environment such as health care. Learn about specific examples of how crisis now moves from traditional media to social and vice versa. Learn from experiences that Mercy Health have faced, as well as gain valuable takeaway tips that Mercy's team have uncovered.
Nancy Corbett is executive director of media relations and social media for Mercy – one of the top five best performing large health care companies in the U.S.  She leads a virtual team that spans multiple states. Besides Mercy's 44 hospitals and 40,000 co-workers in a four-state area, Mercy serves 240-plus hospitals across 28 states with the nation's first Virtual Care Center, one of the world's top health care supply chain operations and one of the most advanced information technology systems in the U.S. 
Adding Creativity to Your Workplace
Angela Byers, Byers Creative
Remember when you were a kid, and the word "possible" could stretch as far as your imagination? That unbounded creativity is still in there somewhere, and it doesn't have to sit in a dark corner throughout your work day. Whether you work with accountants, lawyers or a roomful of designers, there are several ways that you and your team can regain and tap into that bottomless pit of creativity dwelling inside. Doing so can help you, your coworkers and your company as a whole, because creativity is more than just art and design. Creativity is problem-solving; creativity is innovation; and creativity is all of the ways our brains take what we know and who we are to change the world. As the creator of a top-notch design firm, Angela Byers has a few tips on how to take back your creativity.
Angela Byers is the founder and CEO of Byers Creative, a company that has gone from Angela working out of her spare bedroom to a full-blown agency specializing in branding and marketing solutions. Because of the unique and fun culture of her firm, Byers Creative was named one of Tulsa's "Best Places to Work" for two consecutive years by Tulsa Business & Legal News in the "Employees' Choice" category. Angela has also been named a "Woman of Distinction" by Tulsa Business & Legal News, the "Small Business Person of the Year" by the Tulsa Chamber and the "John Hartman Professional of the Year" by IABC. She was also awarded the IABC Tulsa Leon Bolen Service Award and participates in an exhaustive number of professional groups and non-profits, including the PR Chair for the Oklahoma Business Ethics Consortium.
Transition                                          10:40 to 10:50 a.m.
Session 2:                                          10:50 to 11:45 a.m.
Pros and cons of going solo: Are you considering a move?
Natalie Ghidotti, Ghidotti Communications
Are you considering jumping from the stability of the corporate world to owning your communications firm? Natalie Ghidotti will share insights into what you should consider before making the move.
Natalie Ghidotti, APR, is principal of Ghidotti Communications, a public relations consulting firm headquartered in Little Rock's Regions Center. She opened her own firm in 2007 and has since grown the firm to ten employees and a wide range of clients, including some of the region's best-known brands. The firm serves clients that span all industries, including retail, fast food, healthcare, technology/marketing startups, nonprofits, professional services and more. 
Prior to opening her own firm, Natalie was a senior public relations account executive with another marketing/PR firm in Little Rock. Before joining the public relations world in 2004, Natalie served as special publications editor-in-chief at Arkansas Business Publishing Group, where she was editor of Little Rock Family, Arkansas Bride, Little Rock Guest Guide and other magazines for five years. While at ABPG, Natalie won national awards from the Parenting Publications of America for her stories published in Little Rock Family. In her public relations career, Natalie has garnered top Prism Awards from the Public Relations Society of America and Bronze Quill Awards from the International Association of Business Communicators.
Connecting 5,000 employees when all systems are down
Katy Hall, BOK Financial 
Amol Gill, ThoughtFarmer 
On Aug. 6, a tornado hit $32 billion BOK Financial's main technology center in Tulsa knocking out all major banking systems for clients and email communication for employees. Quick thinking and the recent investment in cloud-based intranet platform, ThoughtFarmer, allowed the team to remotely post frequent, prominently-placed updates that employees could access from any personal device. The emergency posts became some of the most viewed, ranked and commented posts in the company's intranet history. Studies show employees spend 28 percent of their time managing email. In case of an emergency, they might not even have that choice. What if you could email less but connect more? ThoughtFarmer's Amol Gill shares a checklist of best practices for communication on your intranet.
Break/Transition to lunch               11:45 a.m. to 12:15 p.m.
Lunch Session:                               12:15 to 1:30 p.m.
Know your impact: Measuring PR for business results
Cindy Villafranca, Southwest Airlines
When the tornado sirens go off in the middle of your presentation to Tulsa's communication professionals, what do you do? You come back … by popular demand.
Measurement means more than numbers! Numbers are results, but you must look behind the numbers to find the insights that tell a compelling story. Cindy Villafranca, responsible for communications measurement and analytics at Southwest Airlines, will talk about communications measurement strategy, tools, techniques and dashboards. From establishing measurable objectives to spotting opportunities and amplifying successes, you will learn how to pull the right metrics and analyze the right data to get powerful insights and results that impress your leaders!
With more than 17 years of experience, Cindy Villafranca began her career in television news as a producer for KOTV in Tulsa, OK. She left the news business after eight years, transitioning to the public relations field, where she quickly applied her news experience to internal and external communications, crisis situations, social media, and measurement/analytics. While in the public relations role, Cindy has worked for several large organizations and companies, including Tulsa Community College, the American Heart Association's national headquarters, Balfour Beatty Construction, and currently, Southwest Airlines. Cindy's expertise in the creation and execution of public relations campaigns on a local and national level, combined with her sound news judgment and diplomatic approach to all situations, has helped her succeed in driving business growth and recognition through key media placements and other PR tactics.