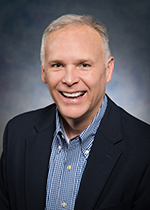 Title: Senior Manager, Supply Chain
Company: Walmart
Why do you love your job?   There's a world of challenges each day and a huge diversity of communication needs.  We have a small team responsible for communicating strategy and tactics to a group of 100,000 field associates.  I get to work closely with many of the leaders of the Supply Chain.
How long have you been a member of IABC? Maybe 10 years?
 
Have you ever served on an IABC Board? No
What is the best IABC meeting/conference you have attended? Why? A few years ago, I was able to attend a one-day conference on Crisis Communications. It was a great opportunity to hear from an industry leader and later be able to implement much of what I heard him explain.
How has IABC played a part in your professional development? The organization's website is a great resource, and the network of professionals is invaluable. Great to be able to learn from each other's experiences.
What is your favorite thing to do outside of work? I am a ham radio operator and a PADI-certified divemaster, so I enjoy both of activities when I can. Also enjoy boating, hiking and my family.
What's your favorite vacation spot?   In early December 2017, we took a family trip to Costa Rica, and it was tremendous. The people were fantastic, and we had some great adventures.
Who is your favorite musical artist? You'd probably laugh, but suffice it to say, I enjoy the music I grew up with: 70s, 80s, 90s.  I'm not sure it's better than today's music…but most of those tunes have some of my best memories associated with them.
Which website do you visit daily?  I visit a variety of news (and weather sites) each day. I like to see a diversity of opinions. And, of course, my own company's internal sites.
What is your favorite restaurant? It's hard to beat a good, cheap and cheerful Chinese restaurant. BBQ ranks pretty high on my list, too.
Complete the following: The future of the field of communications is…very bright! As the world gets more complicated (usually by our technology that was supposed to make things easier!), there will be plenty of opportunities for communicators who can take the complex and make it easy to understand.
What advice would you give to new communications professionals? 
Learn everything you can about your employer.
Figure out early how your organization/company makes money.
Identify quickly what skills your employer finds valuable.
Never say "it's not my job".
Don't lose momentum because you are waiting on someone else.
Be flexible in work priorities and projects.
Don't get so set in your ways that you can't change.
Be nice.
Buzz words are the quickest way to lose an audience's attention.
Leverage the people around you.