I'm sitting here watching American Pickers on the History channel.  If you're not familiar, it's two quirky guys traveling the U.S. seeking Americana treasures from generations ago.  In this particular episode, they are exploring a collection of record players, radios, eight-track players – basically anything that has played music in the last 75+ years.  It's amazing to see the evolution and then look down at my phone where I can carry around thousands of songs in one tiny device.
This got me thinking about how communication has evolved, including our ability to consume and comprehend it. The feverish pace that information is exchanged is dizzying.  What's the saying?  You have to communicate a single piece of information seven times, in seven different ways for it to stick.  So how do we keep up?  The one answer I have found to be true 100% of the time is…you can't do it alone.  We all need a network of support, expertise and knowledge.
This may seem like a shameless plug, but IABC has been that for me.  Joining and participating has unlocked a world of colleagues I admire, resources that have furthered my career and friendships I treasure.  So I thank you, each of you, for your membership and engagement in our Chapter.
We have an exciting fall planned for you: don't forget the IABC Southern Region Conference is coming up in October. Plus the deadline to enter Silver Quill is tomorrow.  Dust off your Bronze Quill entry, review the judges' comments, adjust and submit.
See you at the Tulsa City-County Library with CEO Kimberly Johnson next month!
"You never get more out of something than what you put in to it."  -Mark Millen

---
Learning to Lead: What Executives Want from Their Communication Professionals
You've heard the saying, "working your way up." Tulsa City-County Library CEO Kimberly Johnson did just that. Beginning her career as a library resource coordinator and now leading an organization that serves 600,000 people, Kimberly knows what it takes to be a leader and she thinks communication professionals should too.
At this program, you'll learn:
What key traits leadership looks for in communications professionals.
How to increase your influence within your organization by demonstrating success.
Why the language you use with leadership is important to building credibility.
Fee:
IABC Member fee: $25
IABC Non-member fee: $35
Student fee: $15
Where: Central Library, Pocahontas Greadington Learning and Creativity Center (lower level 2)
Register Online by September 11!
---
Top 10 Ways to Improve your Comprehension
Missed our August professional development on Communication vs Comprehension with Denise Vladovich? Or just want a handy way to remember the takeaways?
Check out this helpful infographic to assist your audience in grasping important concepts easily. It's not about "dumbing it down." It's about "clearing it up."

---
IABC/Tulsa Third Annual Spelling Bee(r)
We all love a good copy editing session, but how are your spelling skills without a red pen in hand? How about with a drink in hand? We found out this year at IABC/Tulsa's third annual Adult Spelling Bee(r).
Spelling 'cauterize' correctly garnered the win at this year's event after the second place contestant misspelled 'chlorofluorocarbon.' Congrats to all our participants!
Check out the photos below from the event and watch this video to see the fun in action.
---
Get to Know Stephanie Higgins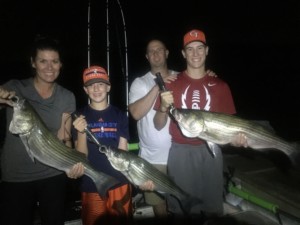 Title: Supervisor, Communications
Company:  ONEOK
Why do you love your job? Quite frankly, it's the people. I love my co-workers like they are family. It makes it much easier to come to work every day when you enjoy the people around you. They celebrate in my successes and lift me up and when I am down.
How long have you been a member of IABC? I have been a member of IABC for 3.5 years.
What is the best IABC meeting/conference you have attended? Why? I attended the IABC World Conference earlier this year in Montreal, Canada. It was really cool to engage with other communicators from outside the United States. To find out there are people all over the world combatting some of the same issues we do on a daily basis made me feel like I wasn't in this profession alone. Some offered practical solutions to those issues as well.
How has IABC played a part in your professional development? I have been a member of various professional organizations throughout my 20-year career in communications. IABC offers me a network of professionals that are primarily in corporate communications. Corporate communications can be a daunting world and having a network of other professionals to bounce ideas off of is priceless. They also offer professional development opportunities that are pertinent to my position for a reasonable price.
What is your favorite thing to do outside of work? My husband and I have two boys, one is a sophomore in college and the other is a freshman in high school. Between the hustle and bustle of chasing them around with their sports (college baseball and high school basketball), we love to go fishing! Striper fishing, trout fishing, crappie fishing, it doesn't matter. We love that family time and spending time outdoors.
What's your favorite vacation spot? I love to go anywhere with a beach. I am not picky as long as it's warm.
 
Who is your favorite musical artist? That's a tough one. When I listen to the radio, it's typically on sports talk radio. I love sports. If I had to pick one, I would say I am a closet Taylor Swift fan. (Guess I am not in the closet anymore.)
Which website or app do you visit daily? Bleacher Report is an app I visit daily. It's a constant feed of sports stories.
What is your favorite restaurant? Any place with a steak. I love a good steak and baked potato.
How will we recognize you at the next IABC function? I am a 6'0 tall sometimes blonde, sometimes brunette. I am hard to miss. I am usually the tallest in the room.
Complete the following: The future of the field of communications is….. Exciting! The field is constantly changing, and it's fun to be a part of a profession that continuously challenges you.
What advice would you give to new communications professionals? Be open to exploring multiple facets of communications whether it's in the news field, public service or corporate communications. I have had the privilege of working in multiple facets of the communications profession. Because of this, it has provided me with the opportunity to be a more well-rounded communications professional.

Send a shout out to these members celebrating anniversaries in August.
August 1 – Emily Perkins
August 12 – Kim Kuehler
August 15 – Kiley Roberson