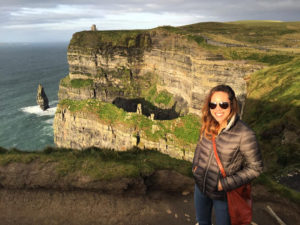 Title: Senior Learning and Development Specialist
Company: Direct Energy
Why do you love your job? The people! The culture here at DE is amazing. The leadership team is passionate about personal and professional growth and providing the necessary tools to do so. The unlimited vacation is also a major bonus!
How long have you been a member of IABC? I'm a newbie. I joined in 2015.
Have you ever served on an IABC Board? I just recently joined the board and serve as VP of Awards.
What is the best IABC meeting/conference you have attended? Why? I have to say, the Spelling Bee(r) held at Fassler Hall was a blast! But, I'm generally impressed by anyone who can spell "definitely" on the first try and without autocorrect.
How has IABC played a part in your professional development? The articles in the resources page on IABC.com by itself are a goldmine. They are endless and have helped out tremendously in a pinch. Don't know a lot about crisis communication? No sweat. Type it into the search and off you go!
What is your favorite thing to do outside of work? Travel and eat.
What's your favorite vacation spot? It's a tossup between Ireland and Thailand. I can eat my way through both.
Who is your favorite musical artist? This question is too difficult. There are too many amazing artists to choose just one.
Which website do you visit daily? Right now, ESPN. I am getting KILLED in my fantasy league!
What is your favorite restaurant? Stonehorse in Utica Square.
How will we recognize you at the next IABC function? I'm short but loud. If you can't see me, you can certainly hear me.
Complete the following: The future of the field of communications is…evolving. It wasn't too long ago when the mindset was that communicators were simply informers (or event planners). Today's leaders now view us for who were are — strategic partners who are vital to the success of the organization.
What advice would you give to new communications professionals? Seneca, a Roman philosopher, once said, "Luck is what happens when preparation meets opportunity." This is also one of Oprah's favorite quotes. My advice is to really chew on this quote. Consider what "luck" means to you and what you can start doing today to influence your own success as a communicator.