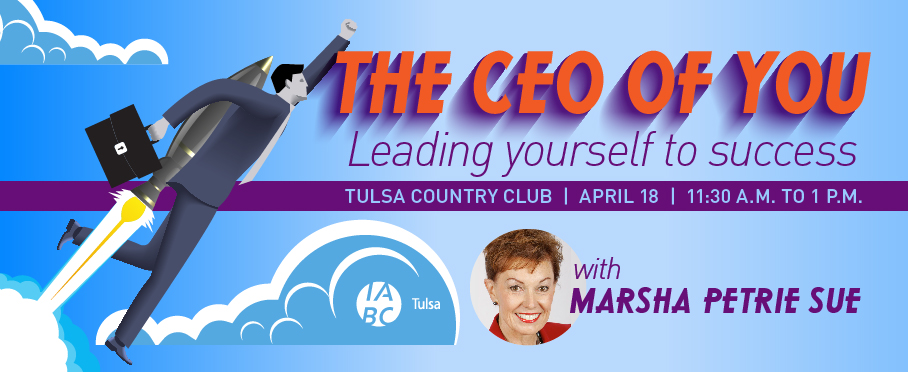 A direct, no fluff message that empowers you to take action on your own success. Marsha will provide ideas that can be immediately applied to help you reach your goals. The discussion will also cover survival tactics to manage and lead people that suck the life out of business. Learn how to neutralize the Backstabber, Needy Weenie, Steamroller, Know-it-all, Whine and Cheeser, and more! All attendees will receive a complimentary e-book and listening skills CD.
When: 11:30 a.m. to 1 p.m., April 18
Where: Tulsa Country Club, 701 N. Union Ave., Tulsa, OK 74127
Fees:
IABC members: $25
Non-members/guests: $35
Students: $15
About Marsha:
Marsha Petrie Sue is the Muhammad Ali of personal development, leadership, communications and managing change. She can dance and look pretty and she uses the entire ring, but she knows how and when to land a knockout punch. Think of her presentations as charm school with live ammunition. She challenges every morsel of your beliefs while entertaining and enlightening. She dares people to take personal responsibility for their choices, success and life. Marsha is an original and one-of-a-kind professional speaker and author. Whether Marsha is dealing with employee relationships, increasing productivity or pumping up sales, her guiding principles bring energy and fun to any meeting or event.
Her clients include small and large corporations, associations, healthcare institutions and multilevel marketing companies. As a former corporate executive of Fortune 100 companies, Marsha understands what it takes to improve productivity and profits.
She is a best-selling author of Toxic People: Decontaminate Difficult People at Work Without Using Weapons or Duct Tape and also The Reactor Factor: How to Handle Difficult Work Situations Without Going Nuclear. She is also the author of several other resources including the award-winning book The CEO of YOU: Leading YOURSELF to Success.