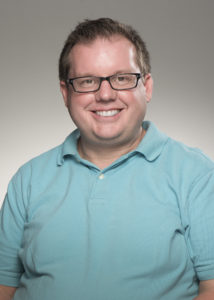 Title: Communications Consultant
Company: ONE Gas
Why do you love your job? I love my job because I get to write stories about great people working for a great company.
How long have you been a member of IABC? Six years.
Have you ever served on an IABC Board? Not yet. Someday!
What is the best IABC meeting/conference you have attended? Why? I enjoyed a meeting hosted by Tulsa Mayor G.T. Bynum because he reminded me how a good communicator listens, engages with people and can help influence change in a positive way.
How has IABC played a part in your professional development? IABC has been invaluable in my professional development. I gain new insights after every meeting I attend. I also get to meet and learn from fellow communicators.
What is your favorite thing to do outside of work? Spending time with family, going to movies and reading when I have the time.
What's your favorite vacation spot? The Grand Hotel on Mackinac Island in Michigan.
Who is your favorite musical artist? I can't name just one! I really like an eclectic mix of musical artists (mostly older stuff). For example, I might listen to Stevie Wonder, Johnny Cash, U2, Ella Fitzgerald and Bruno Mars in a typical day.
Which website do you visit daily? The New York Times (I'm a news junkie).
What is your favorite restaurant? Local: Juniper Restaurant. When visiting Chicago I enjoy Frontera Grill.
How will we recognize you at the next IABC function? Just look down. I'm the short guy with glasses.
Complete the following: The future of the field of communications is…merging traditional communication messages with new digital media platforms.
What advice would you give to new communications professionals? Learn to be adaptable. The industry is constantly changing. There are many ways to tell your company's story.