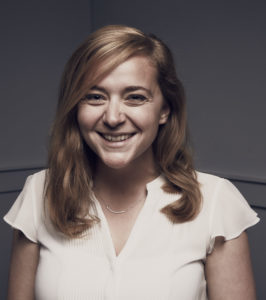 Title:
 Communications Manager, Global Office of Culture, Diversity and Inclusion
Company: 
Walmart
Why do you love your job?
 I love seeking and embracing differences in people, ideas and experiences and seeing those differences come together to make real results. And I love the people I get to work with every day.
How long have you been a member of IABC?
 I'm a brand new member to IABC! I joined this past winter.
Have you ever served on an IABC Board?
 This year I will be the secretary, and I am also looking forward to undertaking the digital presence for IABC Tulsa.
What is the best IABC meeting/conference you have attended? Why?
 Can't wait to attend an event…hoping to make it over to Tulsa sometime soon! (I live in Bentonville, AR.)
How has IABC played a part in your professional development? 
Our whole team learned a lot from judges' feedback from our Bronze Quill entries.  I look forward to meeting and learning from fellow communicators.
What is your favorite thing to do outside of work?
 I'm always on the move! I never stay in town for too long; I'm always off on one weekend road trip or another. If I'm going to New Orleans this weekend, then I'm already planning my trip to Minnesota next month!
What's your favorite vacation spot?
 In the U.S., I love going to Boston or San Francisco. In January, I went to Iceland and can't wait to go back!
Who is your favorite musical artist?
 I'm currently jamming to Alabama Shakes and Bad Rabbits.
Which website do you visit daily?
 I'm pretty addicted to sporcle.com. I have spent obscene amounts of time trying to get perfect scores on geography quizzes.
What is your favorite restaurant?
 Tusk and Trotter in Bentonville has the best local eats, but nothing beats Kansas City barbeque at Jack Stack!
How will we recognize you at the next IABC function?
 Probably from my obnoxiously loud laugh (or perhaps better described as a cackle), which I'm told can grab the attention of the whole room!
Complete the following: The future of the field of communications is…
 digital and personal. If you can make a personal connection through a digital platform, you'll always have a job in this field.
What advice would you give to new communications professionals?
 Write every email as if they will get forwarded to the CEO. It's easy to fire off quick emails without thinking about tone, but taking a few minutes to review how you've said something can improve your standing in the eyes of your colleagues.