Did you know IABC's Purpose is centered around three key drivers?
Advance Profession: Advance awareness of communication as a strategic leadership function, demonstrating its impact on business performance.
Create Connection: Create global peer connections, facilitating ways for practitioners to interact and support each other.
Develop Strategic Communicators: Develop opportunities for learning, leadership and recognition to help communicators become trusted business advisers.
Let's Advance the Profession and ourselves together.
The CMP and SCMP Certification is one of the many ways we can accomplish this.  IABC is the only global communication organization and our certification process is very close to being the only ISO certified process.  I am very excited to announce we will host an exam right here in Tulsa next year…tentatively set for May 2019.
What does this mean?  You have plenty of time to prepare and apply to take the exam.  AND you won't have to travel to further your career.
What is certification important?  These credentials make you a recognized expert and leader in the communications field.  No different than the colleagues we sit around the table with e.g. PMP, PHR, SPHR, PE, etc.  As a group it further solidifies communications impact on business performance; advancing the profession.
Now we need to Create Connection and Develop Strategic Communicators.
IABC has countless ways to connect and develop your career.  But if you're new to IABC or haven't had a chance to dive into what the options are, it may not be clear or seem daunting.  My experience has been, getting involved is the easiest way to create connections and learn.  Volunteering for our local chapter has allowed me to build relationships and friendships that I wouldn't have otherwise.  Which has also helped me develop and grow as a communicator.  When you view our profession through many lenses, you really flex those strategic communication muscles.
How do I get involved, you ask?  Just let us know you're interested. Don't have a lot of time?  No problem, we have options for you.
Interested in a board role?  We currently have an opening for Vice President, Special Events.  If you like focusing your time around specific projects and planning events, this is the role for you.
We say this a lot, but please reach out at any time.  We are here to serve our members and ensure you have the tools to grow your career and network.
 
Volunesia (noun) – That moment when you forget you're volunteering to help change lives, because it's changing yours. 

---
Tee it Up with IABC
IABC wants to celebrate Member Month with you!
October is IABC's Member Month, and we're celebrating with a free event featuring one of our very own – Kiley Roberson, Tulsa City-County Library's new Chief Strategy Officer and IABC/Tulsa Board Member. During this Q&A session, Kiley will share some of the successes and challenges she has faced in her career and how her IABC membership and network has helped her climb the leadership ladder.
This event is FREE as our thanks to you for supporting IABC/Tulsa, so we'll pick up the tab on some appetizers, a round of golf and your first cocktail.
About Our Speaker
Kiley is the Chief Strategy Officer for the Tulsa City-County Library. Prior to her career with the library, Kiley worked as a Senior Communications Analyst for SemGroup Corporation and as a TV news producer and reporter.
Kiley has been a member of IABC since 2011 and has served on the IABC/Tulsa board from 2013-2015, previously holding the role of Professional Development Co-Chair.
Kiley has a master's degree in communication management from the University of Southern California, a bachelor's degree in broadcast journalism from Oklahoma State University and is a certified crisis manager from the Institute for Crisis Management.
Kiley is a writer at heart and spends her free time on her award-winning column in TulsaKids Magazine. Kiley married her high school sweetheart, Chad, and the two have a bright and beautiful six-year-old daughter and an outgoing, spunky three-year-old son.
---

2018 Communicators Summit by IABC, PRSA & AMA
Marketing professionals, crisis managers, writers, designers, brand managers, employee engagement experts … as communicators, these are just some of the many hats we wear as we prepare organizations to respond to challenges, both internally and externally.
That's why we're not just PR or marketing or crisis communicators. Organizations look to us to be leaders in all areas of communications, and Communicators Summit is where we come together to meet, learn and grow in our professions.
This year's summit will bring together experts from across the country, representing various industries to discuss current trends, technology and strategies to help you engage with your audience and drive business results.
There is guaranteed to be something for every skill level – from the newbie just joining the profession and building a network to the seasoned pro looking to keep up with the latest trends.
Early registration open now until Oct. 12. Prices go up Oct. 13th. Last day to register is Oct. 26th.
Cost for full Summit 
$40.00 student rate
$65.00 member early bird
$75.00 member
$80.00 non-member early bird
$90.00 non-member
Lunch-only Keynote
$15.00 Student
$25.00 Member
$35.00 Non-member
Speakers Summarized
Morning Keynote: Joy Dyer, OKC Thunder Moments Matter!
Set 1: Breakouts: 9:45 am to 10:30am
Programmatic Marketing Strategies and Digital Tactics to Drive Company Growth, Joe Macaluso and Yaviv Drori, Multiview
Utilizing podcasts to communicate; how to get started and how to measure success, Lauren King, F Word Podcast
Brand Fission: The Quik Print / Mingo Brand Story,Libby Bender, Cubic; Alex Gravley, Quik Print; Amy Gravley Witkowski, Mingo
Set 2: Breakouts 10:45- 11:30
Thought Leadership and Social Media Measurement, Executive Involvement, Erin Holland, ONEOK, and Michelle Heard, Ascension
PR Case Study, Andrea Myers, FleischmanHillard
Tulsa Motivational leadership/Inspiring Teams, Justin Harlan, Reading Partners
Lunch Keynote: Mind Matters: Cognitive Bias and Communication, Chuck Gose, Chuck Chats, ICology podcast and Social Chorus
Early Bird Registration Ends October 12!
---
Missed September's Professional Development?
Here are a few of the key takeaways.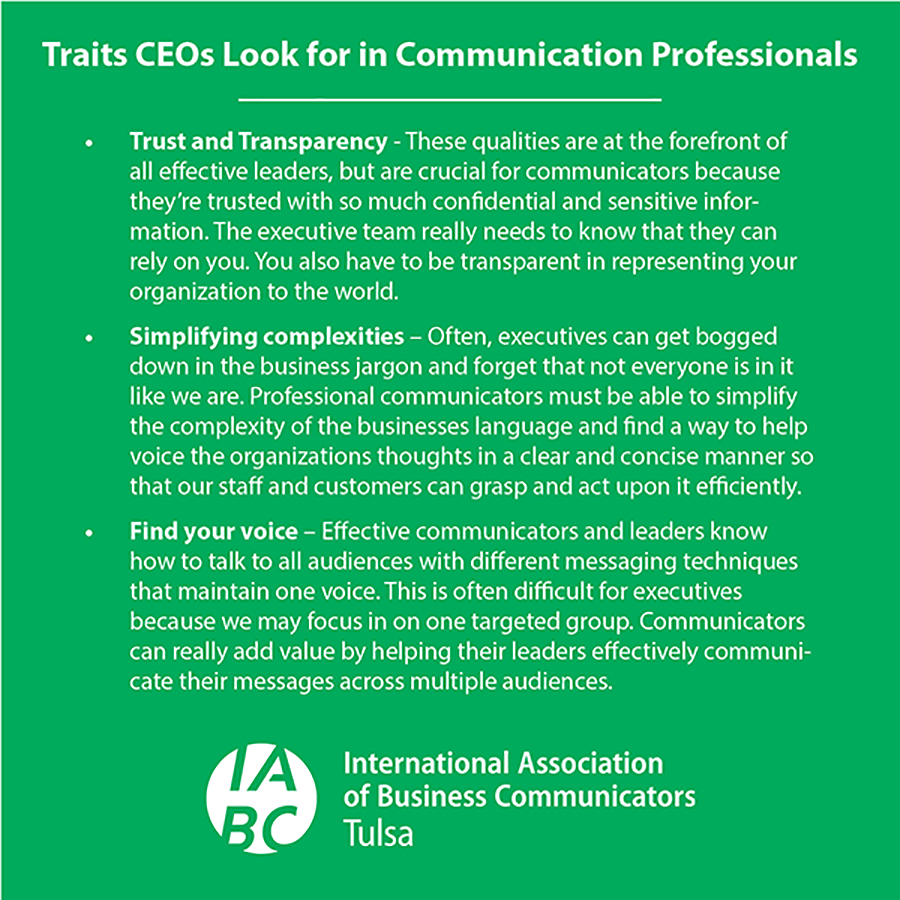 ---
Get to Know Lainie Harber
Title: Internal Communications Manager
Company: Helmerich and Payne
Why do you love your job? Because I have the opportunity to help my colleagues better understand the business, each other and where they company is headed. I also love being a strategic counselor to all employees – helping provide guidance and best practices to ensure the organization is on the same page.
How long have you been a member of IABC? 6 months
Have you ever served on an IABC Board? No, I haven't yet, but maybe someday.
What is the best IABC meeting/conference you have attended? Why? The meeting on September 12 at the Tulsa City-County Library was very illuminating. I left with a few pages of notes and some strategies that will absolutely be relevant to my work.
How has IABC played a part in your professional development? It's been great to have another outlet to access real, timely information that can help my team and I be more effective. It is also so helpful to have the chance to hear successes and struggles that other communications professionals are encountering.
What is your favorite thing to do outside of work? I love to travel, cook and try new restaurants. I'm also a huge movie buff and of course I love to spend time with my family and friends as much as I can.
What's your favorite vacation spot? Oooh tough one. My favorite American city to vacation in is Chicago, though I recently went glamping in Colorado, and I'd highly recommend it. And internationally speaking, Switzerland is always a good idea.
Who is your favorite musical artist? I'm an oldies gal – basically if they've passed or broken up, I love 'em. Beach Boys, Beatles, Carole King, Sam Cooke. But I love Sam Smith, Leon Bridges and of course Queen Bey.
Which website or app do you visit daily?  I love the Skimm every morning for my news and of course Instagram.
What is your favorite restaurant? Again tough one. I love to try new restaurants and live for Restaurant Weeks. For your tried-and-true fast food or fast casual – Braum's. But there is this wonderful restaurant in Dallas called Americano – if you're in the city, please go. In Tulsa, Antoinette's. Thanks to Leslie Agee for that obsession. 🙂
How will we recognize you at the next IABC function? Hmmm could be my inevitable top knot if the event is at the end of the day. I feel like my hair is always up by EOD.
Complete the following: The future of the field of communications is…..digital. No surprise here I'm sure, but I think it's only going to continue to grow. I also think communications professionals will only become more involved in company strategy and trajectory.
What advice would you give to new communications professionals? Read. Read novels, industry pubs, blogs, social accounts, LinkedIn. Also, expose yourself to different industries and professional backgrounds. So often we can get stagnant in the work that we do for our specific company – there are SO many ways to innovate, but we've got to expose ourselves to the fresh, new and now.
---

Help us welcome our newest IABC/Tulsa members!
Amanda Black, Communications Coordinator at Helmerich and Payne
Michele Harmon, Writer/Editor at Chipper Muse Creative Services
Cody McAlester, Senior Communications Specialist at Bank of Oklahoma
Claire Combs, Senior Manager, Corporate Communications at Hilti
---

Send a shout out to these members celebrating anniversaries in September.
September 7 – Natasha Mitchell
September 21 – Keith Isbell
September 29 – Susie Wellendorf