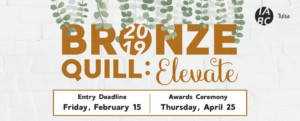 Gather your work samples and prepare your work plans. Bronze Quill 2019 is now open for entries!
Bronze Quill Awards recognize outstanding employee communications, public relations, media relations, community relations, government affairs and marketing communication efforts. Bronze Quill is open to all communicators – members and non-members alike. Did you know, we also have student categories as well?
Submit your entries early and save!
EARLY DEADLINE: MONDAY, DECEMBER 31
In addition to our entry winners, we recognize three exceptional communicators. Please review the descriptions below and nominate someone for a special award.
Communicator of the Year: Honors a member of the community for his or her contributions to the community through communications. This person is not a communicator by profession — but by passion.
Professional of the Year: Recognizes the outstanding achievements of an IABC member in his or her career, profession and community.
Rising Star: We will once again recognize a dynamic, young professional who has demonstrated outstanding ability and strong leadership within the communications profession.
For questions, sponsorship information or to nominate an individual for one of these awards, email awards@iabctulsa.com or call Ashley Cleveland at 918-947-7251.