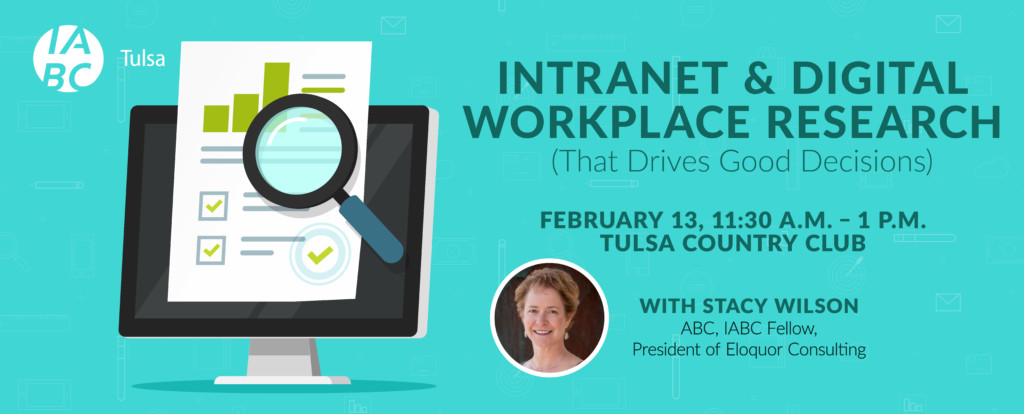 Are you getting the most from your intranet technology? Is your digital workplace serving employee needs? Do you even know what those needs are? Great intranets and digital workplaces are born from sound user research. You'll learn:

About research methodologies that deliver results.


How to draft questions that provide more strategic insights.


What to do with your findings.


Where to go next in your intranet or digital workplace.


When: 11:30 a.m. to 1 p.m. February 13
Where: Tulsa Country Club, 701 N. Union Ave., Tulsa, OK 74127
Fee:

IABC Member fee: $25

IABC Non-member fee: $35

Student fee: $15


About Stacy Wilson
Stacy Wilson, ABC, IABC Fellow, president of Eloquor Consulting, helps organizations get more collaboration and innovation value from technology investments by ensuring the people/process elements work effectively. She primarily focuses on intranet and digital workplace strategy, governance, usability, content and adoption. Clients are from around the world and many industries, such as XL Catlin, Newmont Mining, University Hospitals of Cleveland and Ingram Micro. Stacy is a long-time IABC member whose roles have included: International Board member, District Director and World Conference PAC Chair. Connect with Stacy: LinkedIn or Twitter.