I've been thinking about vulnerability a lot lately. What that means personally and professionally. How often it impacts our decisions or even indecision. With my curiosity piqued, I started poking around a bit more. Of course you have to start with the definition:

vul·ner·a·bil·i·ty
noun
The quality or state of being exposed to the possibility of being attacked or harmed, either physically or emotionally.

"Exposed…attacked or harmed" sounds intense, but everyone has their own perceptions of what that means for them. And overcoming that meaning can feel easy or even impossible.

I felt vulnerable when I applied for the SCMP certification exam. Will it be accepted? If it is, will I pass? There's even vulnerability in crafting a Bronze Quill entry. This is my work, energy and time that I'm putting out there to be reviewed and judged. I'm feeling vulnerable just writing this down. It can all be scary, but what is the alternative?

To elevate ourselves and our work, to think forward, to speak up in a meeting, to impart change, you have to be vulnerable. It can be a very powerful thing, and the beauty is we all have it within us to harness that exposure we are feeling and use it.

"Most people believe vulnerability is weakness. But really, vulnerability is courage. We must ask ourselves…are we willing to show up and be seen?" – Brene Brown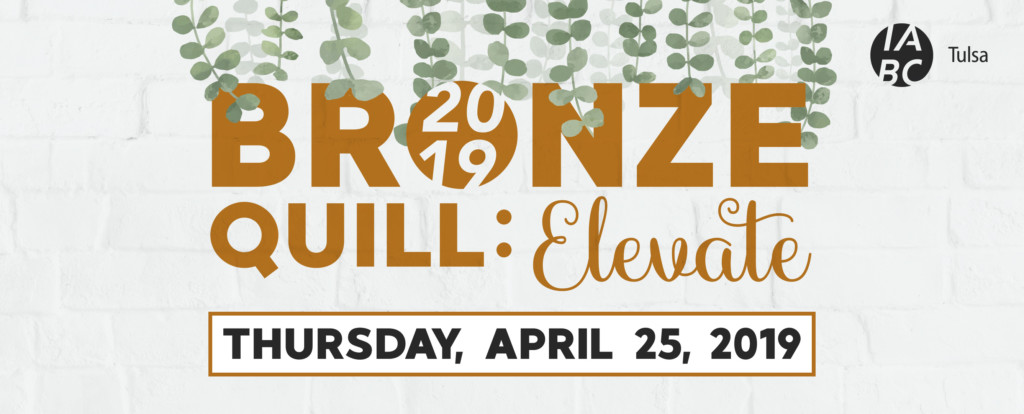 Join Us for the 2019 Bronze Quill Awards Celebration

The Annual IABC Bronze Quill event is a celebration of communications. Bringing a diverse network of communication professionals together for a fun evening of networking and recognition of outstanding work in our field. This event is open to all communicators – members and non-members alike – plus their friends and family. Join us as we elevate the communications profession. Don't forget to invite your spouse, friends and coworkers to help us celebrate!
When:Thursday, April 25, 2019 at 6 p.m.
6:00 p.m. – Check in and cocktail hour (wine, beer and hors d'oeuvres included)
7:00 p.m. – Dinner (dietary restrictions accomodated, including vegetarian and gluten free) and Awards

Where:Tandy Garden at Tulsa City-County Library
400 Civic Center, Tulsa, OK 74103
(Free parking available in garage)
Attire: Business formal or cocktail
Thank You Sponsors:
Presenting Sponsor: Helmerich & Payne


Platinum Sponsor: Available
Gold Sponsor: Williams


In-Kind Sponsors: Byers Creative, Miller Photography

Once again, we will recognize three exceptional communicators at the celebration. Review the descriptions below and consider nominating someone for a special award.
All nominations are due by March 22.

Communicator of the Year:
Honors a member of the community for his or her contributions to the community through communications. This person is not a communicator by profession — but by passion.
Professional of the Year:
Recognizes the outstanding achievements of an IABC member in his or her career, profession and community.
Rising Star:
We will once again recognize a dynamic, young professional who has demonstrated outstanding ability and strong leadership within the communications profession.
For questions or sponsorship information or to submit a special award nomination, email awards@iabctulsa.com or call Ashley Cleveland at 918-947-7251.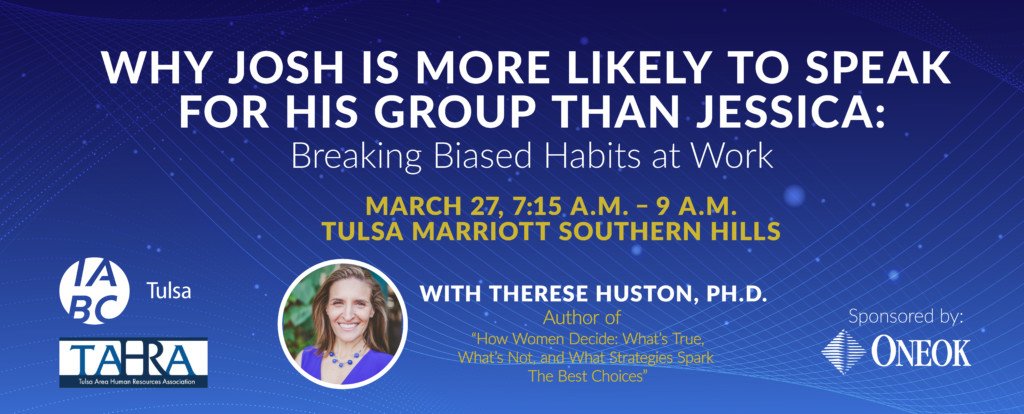 Why Josh is More Likely to Speak for His Group than Jessica: Breaking Biased Habits at Work


Co-presented with the Tulsa Area Human Resources Association (TAHRA). TAHRA members should register here.

The next time you're in a meeting where people are offering updates on a team's progress, notice who speaks. Chances are you'll hear from more men than women, even if women were crucial behind the scenes. Why does this happen? Who will get the credit for that group's work? And how many women need to be in the room before they typically participate on par with men?

Therese Huston shows that the "men speak, women listen" dynamic emerges among the most well-intentioned (and well-educated) groups. Therese shares strategies for curbing gender bias in group work and meetings, regardless of the gender ratio. You'll leave equipped to bring everyone's best ideas to the table.

What You'll Learn:
How to recognize and address issues of unconscious bias.
How to use data from scientific research to discuss gender habits, perceptions and strategies.
Practical strategies you can begin to use today.

When: 7:15 to 9 a.m. March 27 (Breakfast starts at 7:15 a.m.; Program starts at 8 a.m.)
Where: Tulsa Marriott Southern Hills, 1902 E 71st Street, Tulsa, OK 74136 (Council Oak Ballroom)
Fee:
IABC Member fee: $20
IABC Non-member fee: $30
Student fee: $10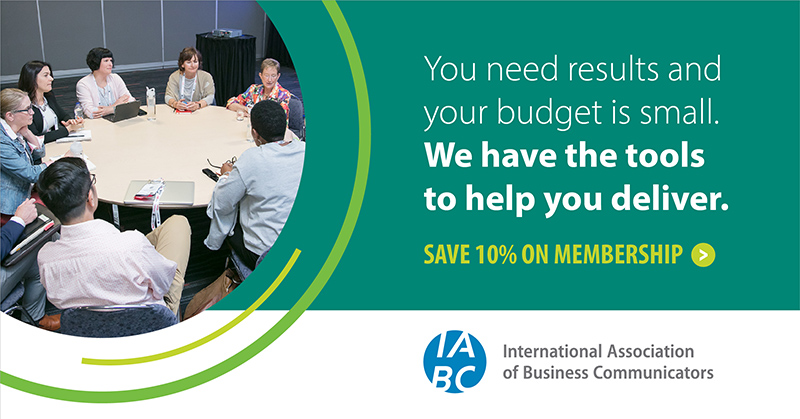 Member Month: Expand your impact with IABC

Get ready, it's Member Month! Take advantage of this special twice-a-year offer to rake in the incentives when you join or renew your IABC membership. Here's what you need to know:


Why join IABC?
Regardless of your career stage, IABC membership expands on your ability to deliver a higher standard of professional communication.
IABC membership allows you to stay on top of business communication trends and critical developments. This expands your ability to ensure your organization's voice remains relevant, informed and proactive.
Membership in IABC helps you increase the effectiveness of your business communication to expand the impact you have on your organization's business results.
Expand your impact by expanding your access to business-building ideas and best practices through peer-to-peer networking, engagement and knowledge sharing among a global community of communication professionals.
How can we sweeten the pot?
Existing Members for Renewal or New/Lapsed Members: 10% discount on International dues when renewing in March
PLUS: Entry into a drawing to win one of three prizes: World Conference VIP Prize Package, IABC Academy All Access Pass, three free bonus months of IABC membership.
Referrals:
All members who refer 4 or more new/reinstating members during March receive a year of free IABC membership.
All members who refer any new/reinstating members during March will receive a $50 IABC Academy credit for each member who joins.
Meet a Member: Monica Johnson 
Title: Internal Communications Specialist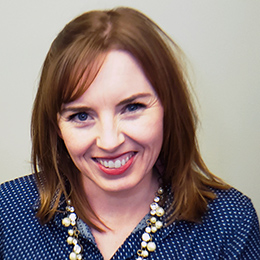 Company: TTCU Federal Credit Union
 
Why do you love your job? I enjoy partnering with a wide variety of colleagues every day to ensure employees are heard, engaged, and aware of business priorities and progress. Whether it's a 1:1 conversation, a coordinated campaign, or an all-staff event, it's fulfilling helping people connect with information (and one another) in creative ways. Coming into communications, my graphic design and video editing techniques were quite basic. It's exciting looking back and seeing growth in those areas, all because this field is ever-evolving.
 
How long have you been a member of IABC? I finally joined in January 2019.
 
Why are you a member of IABC? The local programming has long piqued my interest, and I have enjoyed attending various events and meeting local members over the last few years. I am glad to be an official member now! The additional member resources available through The Hub, Communication World, and webinars are already enhancing my strategic communications goals.
 
What is the best IABC meeting/conference you have attended? Why? I learn something from every IABC event I'm able to attend, and I recently appreciated the timeliness of the February meeting regarding intranets and digital workplaces. My organization is tackling a revamp in the near future (and it seems many other IABCers are, too).
 
How has IABC played a part in your professional development? I am looking forward to continued growth, thanks to IABC! From tips and tricks learned through webinars to learning from other members at meetings, I find my time spent here very valuable. The CMP certification will also hopefully be part of my future.
 
What is the value of your IABC membership? Priceless!

What is your favorite thing to do outside of work? My favorite hobbies include running on our fabulous River Parks trails, building community with friends and family, attending concerts, and playing with my dog, Hudson.
 
What's your favorite vacation spot? Anywhere with mountains, sea and ideally not even a hint of Wi-Fi. ? The Rock Boat is pretty hard to beat: It's a music festival at sea.
 
Who is your favorite musical artist? Ben Rector. He is seriously underrated. Also, he is from Tulsa!
 
Which website or app do you visit daily? Pinterest. My life there is quite perfect. ? Spotify and Strava are also close behind.
 
What is your favorite restaurant? Calaveras, El Guapo's, Fabulosos Mariscos– let's be real: anywhere with chips and salsa.
 
Complete the following: The future of the field of communications is….. versatile! We have such power to benefit our organizations, whether through driving employee engagement, supporting strategic initiatives, or simply enabling needed conversations across the entire organization. The biggest challenge I see? Having enough peopleresources to gather and deliver relevant, timely information throughout the numeroustechnologies and channels we are responsible for these days!
 
What advice would you give to new communications professionals? How can we help you? No question is too small. There are immense resources available through IABC and this savvy network of communicators in our area and beyond. Take advantage of the knowledge around you, but also please don't undervalue the unique skills and knowledge you bring into this group and your organization as well!
Save the Date
Friday, April 12: Join IABC/Dallas for their Spring Professional Development Conference. Register here!
Saturday, April 13: If you are planning to sit for the CMP or SCMP exam in Tulsa on this day (must have applied prior to March 13), please send us an email to let us know!
Saturday, May 4: Missed the deadline to register for the CMP or SCMP certification exam in Tulsa? OKC will host their exam on May 4. Application deadline to sit for the exam is April 4. Don't miss your chance to get certified in Oklahoma!
Tuesday, May 7: Mark your calendars to join us for a special professional development lunch at Mother Road Market.