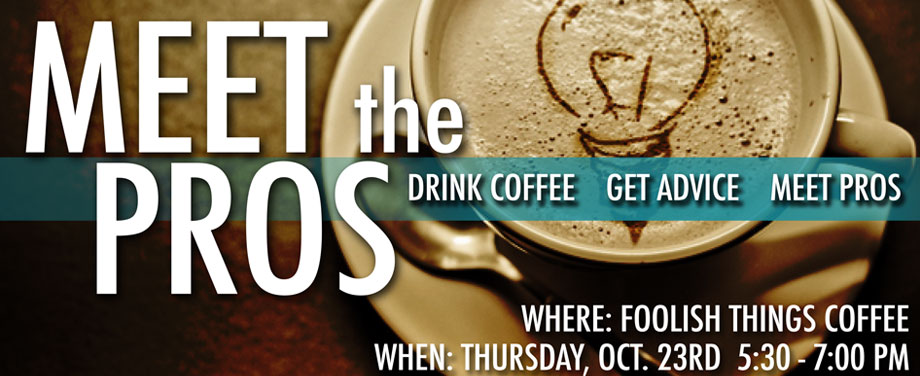 IABC Tulsa is hosting its first Meet the Pros night!
Learn how to take the next step in your career — whether that is landing that first job or using your expertise to open your own firm — from successful communicators and PR professionals at our October professional development event. A panel of experts will answer questions from members and local communications students. Stick around after the panel discussion for networking to meet other professionals of IABC/Tulsa as well as the next generation of pros.
Join us for networking and refreshments Thursday, October 23rd from 5:30-7:00 pm at Foolish Things Coffee.
About our Panel
Joe Williams heads up Joe Williams Communications, a 29-year-old consulting, research and training firm that works with diverse clients such General Dynamics, the Sydney Conservatorium of Music, Butterfield Bank in Bermuda, the Government of the Republic of South Africa and Cirque du Soleil. Joe holds more than 125 national awards for his work, including 13 IABC Gold Quills. He has served on the IABC Gold Quill Blue Ribbon panel, and is an All-Star speaker at World Conferences. IABC named him a Fellow in 2009.
Joe holds a Master's in Mass Communications from OSU, served in the Army in the late 60s, and in his salad days he was on the editorial staff for the Daily American newspaper in Rome, Italy. He and his young family once spent more than a year vagabonding through Europe and North Africa in a VW camper. Joe's six grandchildren say he tells a good story, he's funny, he's good at starting things, talking to strangers and brightening their day. They say he gets things done…and gets paid for it.
Ginger Homan, ABC is the founder and owner of Zia Communications and a founding partner in MODA, a branding and architecture firm. Both firms focus on building communities and creating thriving cultures. Homan specializes in getting a client's message heard, understood and acted upon. She is a recipient of the 2011 Tulsa Chapter IABC John Hartman Professional Communicator of the Year; former president of the Tulsa chapter; and the former Director of North America for the IABC Accreditation Committee. She currently serves as a member of the IABC International Executive Board.
Amanda Clinton serves as the director of communications for Cherokee Nation and Cherokee Nation Businesses. Prior to joining the tribe's communications department in 2005, Amanda worked at ABC affiliates in Tulsa and Topeka, Kan., where she held various jobs as a producer, weekend reporter and assignments editor. She earned both her bachelors and masters degrees from Oklahoma State University, and teaches strategic communications writing as an adjunct professor at OSU Tulsa since 2011. Her departments at Cherokee Nation and CNB earned national PR Daily Awards in 2012 and 2014. Amanda is a Cherokee Nation citizen originally from Locust Grove, but has called Tulsa home for more than 10 years.
Lizaimee (Liza) Mata is a communications specialist II in the Communication and Strategic Outreach department at Williams. Currently, Liza's work focuses on communicating with internal and external stakeholders through channels like Williams' blog, social media, advertising campaigns and the Williams' customer magazine, Connect.
Liza received her Bachelor's degree in Communication from the University of Tulsa in 2010. Liza completed her Master of Science in Strategic Communication Management from Oklahoma State University in Tulsa in December 2013.
Date: October 23
Time: 5:30 p.m. – 7:00 pm
Venue: Foolish Things Coffee
1001 S. Main St. , Tulsa, OK 74199 United States