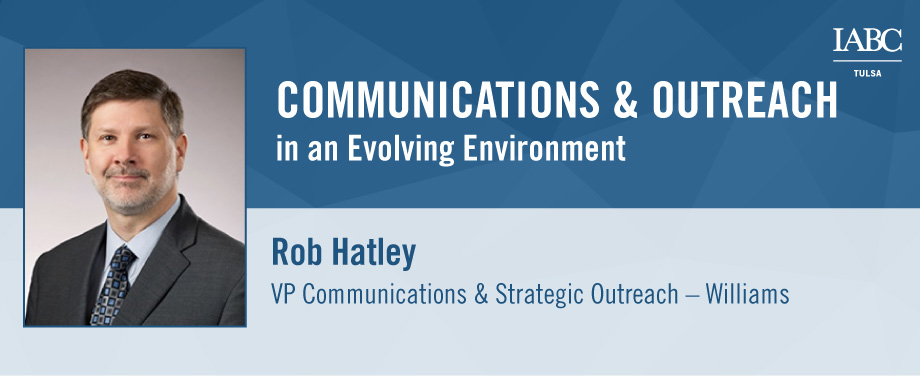 As one of North America's leading energy infrastructure companies, Williams is growing as it works to complete $25 billion in capital spend for new, greenfield pipeline projects as well as expansions to existing facilities and pipelines over the next several years.
Join us Wednesday, Jan. 21, as Rob Hatley discusses how Williams' Communications & Strategic Outreach team is constantly adapting to the needs of the business, while helping leadership understand the value his team provides. He also will present a case study on lessons learned through support of two of the company's recent new pipeline projects; and the lessons learned about the importance of engaging stakeholders with one, consistent voice across multiple channels – from face-to-face meetings with landowners to strategically placed tweets.
All about Rob
Rob Hatley is vice president of Communications & Strategic Outreach for Williams. He is responsible for the company's internal and external communications efforts, including public relations, crisis communications, advertising, branding, charitable giving and public outreach. Rob joined Williams in May 2013. Prior to that, he was responsible for global communications at Freescale Semiconductor. He also was part of the communications leadership team with Dell in Austin, Texas, during its fast- paced growth from 1999 to 2006.
When: Wednesday, Jan. 21, 2015, 11:30 a.m. – 1 p.m.
Where: OSU-Tulsa, North Hall, B.S. Roberts Room
700 N. Greenwood Ave.
Tulsa, OK 74106
Fee: Event Registration
Member Fee $25
Non-Member/Guest Fee $35
Students $15
RSVP: Monday, Jan. 19, 2015