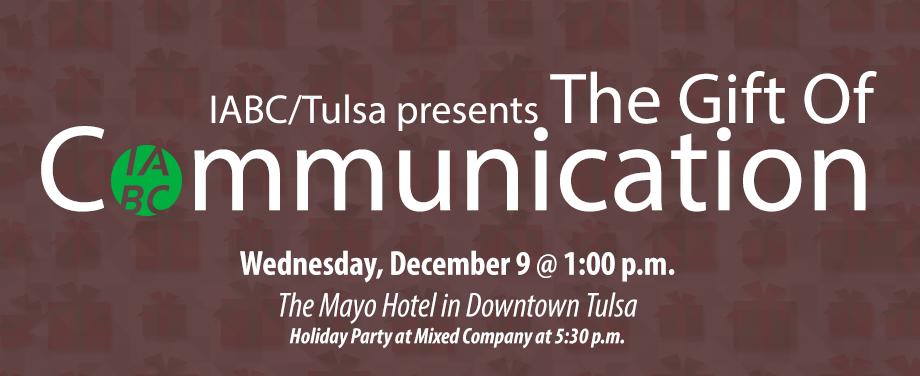 IABC/Tulsa will host the annual Gift of Communication event as a way for professional communicators to give back to the community. This event allows IABC members and others to share their expertise with representatives from nonprofit organizations to help them achieve excellence in corporate communications, public relations, employee communication, marketing communication, public affairs and other forms of business communication.
Agencies represented this year:
At the meeting, there will be four areas set up for the agencies. Attendees will be able to join whichever group they wish to help and feel they can make the most difference.
It's a great time to share your skills and help resolve some of the issues facing these organizations, all while learning from other communications professionals.
RSVP for The Gift of Communication by Monday, December 7
---
After the Gift of Communication, come over to Mixed Company for our holiday party. What better way to celebrate the holiday season than by sharing drinks and fun at the IABC/Tulsa Christmas Mixer at Mixed Company? Get to know members and learn what IABC is all about. Free for all IABC members and potential new members. Earn raffle prizes just for attending and more for bringing a guest who might be interested in joining IABC.
Join us for an evening of hoilday cheer, complete with:
Live Music
Cocktails and hors d'oeuvres
Photo booth
An appearance by the big man himself… Santa!
Raffle prizes including bottles of wine and a $100 giftcard to Tallgrass Prairie Table!