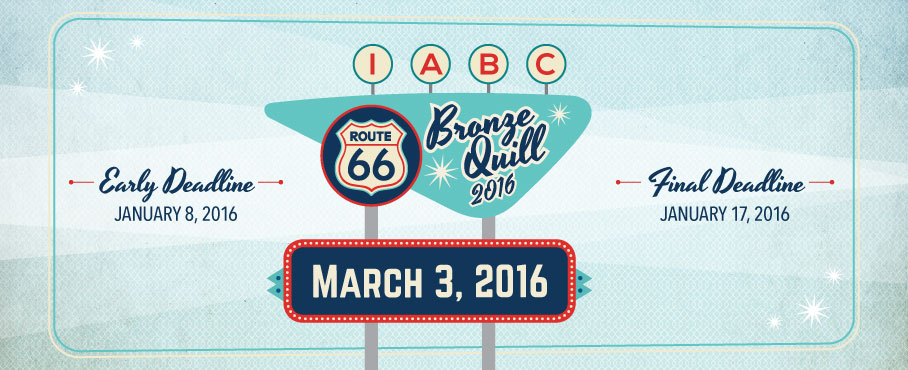 The IABC Bronze Quill Awards recognize outstanding employee communications, public relations, media relations, community relations, government affairs and marketing communication efforts. The Tulsa Chapter of the International Association of Business Communicators' Bronze Quill Awards is open to all communicators – members and non-members alike – in the corporate, nonprofit, advertising, marketing and government sectors.
Entries are now being accepted for the 2016 Bronze Quill Awards.
Early deadline to submit entries: January 8, 2016 at midnight
Final deadline to submit entries: January 17, 2016 at midnight
Interested in Sponsoring Bronze Quill 2016? Click Here
Early Deadline Entry Fees:

IABC Members: $40
Non-members: $50
Students/Non-profits: $30

Final Deadline Entry Fees:

IABC Members: $50
Non-members: $60
Students/Non-profits: $40
The next IABC Tulsa Bronze Quill Awards will be held on Thursday, March 3, 2016.
Entries will be judged based upon stated criteria and the Work Plan provided to the judges. A select panel of communications professionals from IABC chapters in other states will judge all entries.
In conjunction with the Bronze Quill Awards, IABC Tulsa is also seeking nominations for two important individual awards:
Communicator of the Year: Honors a member of the community for his or her contributions to the community through communications. This person is not a communicator by profession — but by passion. Previous recipients include former TU coach Bill Self; former Tulsa mayor Susan Savage; former Williams CEO Keith Bailey; Tulsa Community College President Tom McKeon; Pierce Norton, ONEOK; and Nancy Day, executive director of the Oklahoma Center for Community and Justice (OCCJ).
Professional of the Year: Recognizes the outstanding achievements of an IABC member in his or her career, profession and community. Past recipients include Russ Florence, Kerry Malone, Kim MacLeod, Susie Wellendorf, Ginger Homan, ABC, Tom Droege and others.
Leon Bolen Chapter Service Award: Formerly the President's Award, the award is selected by the chapter president and given to the IABC Tulsa member who has contributed/volunteered the most to the chapter over the past year.
To nominate an individual for one of these awards, contact Kim Kuehler kimkuehler@tulsaairports.com or 918-838-5177.
We will also present a Best of Show Award to recognize the entry judged to be the most effective and creative in achieving its goals.
The IABC Tulsa 2016 Bronze Quill Awards will be at The Campbell Hotel's Renaissance Square on March 3, 2016. Cocktail hour starts at 6:00 p.m., dinner and awards start at 7:00 p.m.
Quick Facts:
Choose from 4 divisions, and 28 categories
Fellow IABC members from other chapters across the U.S. will review your entry and provide you with solid feedback.
You may enter multiple categories within one division or across divisions.
Evaluation is based on IABC's Global Seven-point Scale of Excellence for strategic planning and execution.
Entries must receive a score of 5.25 or higher to receive an Award of Merit, and entries scoring 5.75 or higher receive an Award of Excellence.
Most entries include a work plan providing the strategic overview of the program or initiative, and a work sample showing some of the actual work completed.
For student entries, 35 percent of the score is based on the work plan and 65 percent on the work sample.
For entries in Communication Skills, the score is based on the work sample's creativity, professional execution and alignment to a higher-level campaign or initiative.
Winning entrants will receive an email letting them know they will be recognized with an award at the ceremony on March 3, 2016 after entries have been judged.
Award Ceremony will be held at 7:00 p.m. in Tulsa on Thursday, March 3, 2016.
Student entries
A student or a group of students may submit entries at a discounted rate. At the time the work was created, the student must be attending school full-time or part-time working toward a degree at a college, university or other educational institution. Entrants who were enrolled as a student but have professional communication experience or are employed in the communication profession must submit their entry as a regular or non-member.
Work produced for educational courses, a club or volunteer association, an internship or commercial and non-commercial activities, including work for an IABC chapter or region are eligible for submission. Professors or advisors may not enter on behalf of a student.
Timing for each level of IABC awards:
Chapter Bronze Quill programs – January – April
Regional Silver Quill programs – May – August
International Gold Quill awards – September – December
Work submittals, judging and recognition programs are intended to be held within each of the respective time periods listed.
IABC's Global Seven-point Scale of Excellence
(7) Outstanding: An extraordinary or insightful approach or result
(6) Significantly better than average: Demonstrates an innovative, strategic approach; takes all elements into account and delivers significant results
(5) Better than average: Demonstrates a strategic approach and aligns the communication solution with the business need to deliver meaningful results
(4) Average: Competent approach or results, professionally sound and appropriate
(3) Somewhat less than satisfactory: Several key elements that are critical to the strategy or execution are missing, incorrect or under-represented
(2) An inadequate approach or result: A significant number of critical elements are missing
(1) Poor: Work that is wrong or inappropriate
Have questions?
If you have questions, contact Kim Kuehler at 918-838-5177 or kimkuehler@tulsaairports.com
IABC Tulsa Bronze Quill Awards Ceremony 2016
Thursday, March 3, 2016
The Campbell Hotel's Renaissance Square
2636 East 11th Street
Tulsa, Oklahoma 74104
---
Communication Management work-plan template
This template will guide you in creating your work plan for the Communication Management divisions (Divisions 1, 2 and 3). The work plan is an executive summary of your communication strategy. If you're entering the same program or elements of the program in multiple categories, be sure to tailor your work plan so it fits each category.
Communications Skills division work sample guide
Entry form for Communications Skills division
This document is a preview for the new Communication Skills Division (Division 4) entry form.The Communication Skills division is easier to enter than ever before. Simply complete the brief entry form and then submit it along with your work sample. The entry form provides critical information to assist evaluators in evaluating your work based on the creativity, professional execution and alignment to a higher-level campaign or initiative of the work sample itself. 

You do not need to complete a detailed work plan for the Communication Skills division.