by Hayley Westwood, IABC/Tulsa President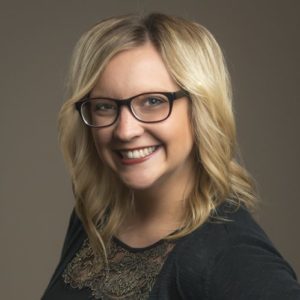 As your new chapter president, let me begin by thanking you in advance for your support as our 
2017-2019 board dives into our new roles.
For those of you who have been around IABC/Tulsa for several years, you know our past-presidency lineup is unparalleled. And having served the last two years under Megan Patterson, I can tell you I have some pretty big shoes to fill. (Not literally, of course, which is unfortunate for me because she has a lot of great shoes.) We kicked off the new board term in July with a full-day transition meeting, which made me nothing less than ecstatic to work with this incredible group of people. We talked through several great ideas and plans, and while I am still trying to find my footing (see what I did there?), I will do my best to uphold the legacy.
If you've ever attended an IABC conference, whether local, regional or international, you know that as with most things in life, you get out of IABC what you put into IABC. Talk to any long-time members and they'll tell you that the relationships you build through IABC are truly the best thing you gain from membership. Building connections with other communicators – learning from them, sharing with them, making memories with them – will bring you more benefits than any other aspect. And the best way to start making connections is to get involved with our chapter!
You may be thinking, "I want to get more involved, but I don't have time to commit to a board role." Guess what? We have plenty of opportunities for you to be active on a smaller scale. For example…
Ever attended the Bronze Quill awards? To make those happen, we also must judge Bronze Quill awards for other chapters throughout the year. It's amazing what you can learn from the hard work of fellow communicators by judging one or two entries each year. Interested in being a judge? Contact Ashley Cleveland, Bronze Quill logistics chair, for more information.
Are you a great public speaker or looking for opportunities to share your knowledge with an audience? Are you a subject matter expert in a certain area of communications? Or perhaps you know someone who would be a great speaker at one of our professional development luncheons? Contact Becky Carver, professional development chair, to help us provide the best development opportunities.
Looking for a meaningful way to give back to the community? Every year we need volunteers to help develop communication plans and deliverables for local nonprofits at our Gift of Communication event. Would you like to lend your talents to this event? Contact Leslie Agee, special events chair.
Have something to share with fellow IABC members? Maybe you've won an award, published a book or just want to participate in the "Meet a Member" section of the newsletter. Contact Sarah Andrews, communications chair, or Natasha Mitchell, social media chair, to share your news with the chapter.
Are you receiving our newsletter and attending our events, but not officially an IABC/Tulsa member? Learn how to become a member and find out why it's worth joining by contacting our membership chair, Kiley Roberson.
As you can see, we have plenty of ways for members to get involved, and I'm eager to see what we can accomplish this term with your help! Please reach out to me if you'd like to be part of a committee or wish to volunteer in any capacity. And feel free to contact any of our board members if you have questions or suggestions!
I invite you to follow IABC/Tulsa on Facebook and Twitter for frequent updates about what's happening in the chapter.
Thanks again for your support as we begin the 2017-2019 board term – we look forward to seeing more of you soon!