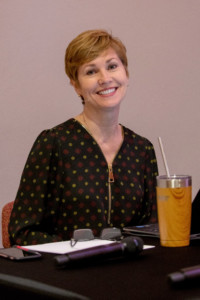 Title: Communication Business Partner for IT and Technology (R&D)
Company: Phillips 66 in Bartlesville, Okla.
 
Why do you love your job? I enjoy digging into details and learning about new things for my writing, but what I love are the people. The organizations I support are global, and their work touches everyone in the company. By default, that allows me to work with colleagues from Bartlesville to Great Britain and everywhere in between. What's so interesting is the wide range in diversity of thought and experience. Yet they are the same in that they're extremely intelligent, driven and focused on the higher good of the company as well as one another. Who doesn't want to be a part of that kind of energy?
How long have you been a member of IABC? I've been a member since February 2005 – this year is lucky 13!
Have you ever served on an IABC Board? Yes. Two terms from 2011-2015 as co-VP of Membership.
What is the best IABC meeting/conference you have attended? Why? I really enjoyed all aspects of the 2012 Southern Region Conference: Real People Talk, in Charleston, South Carolina. What stood out to me the most was Tim Cleary's keynote on building engagement through understanding and ownership. We worked in teams to design a shoe that would help children learn how to tie their laces. Getting people using their hands frees up their minds to be more creative and feel more engaged. And as a group activity it gets people talking, and involves them in the process, which ultimately helps the individuals move themselves through change. Rob Oddi has a similar exercise using Legos to build a change management plan. Very impactful!
 
How has IABC played a part in your professional development? The Tulsa IABC board is another group of diverse thinkers and experts from varied vocations. Working with them was both personally and professionally enriching.  IABC's continued learning series has also been beneficial. Ann Wylie's sessions are some of my favorites because I always come away with actionable principles to tighten up my writing and draw in the reader.
What is your favorite thing to do outside of work? Travel; I love exploring new places, experiencing new things, eating new foods. And travel photography is one of my passions. Check it out on Instagram @sumascenes.
What's your favorite vacation spot? It's hard to pick just one, so I'll pick three: Scotland, Ireland and China, so far.
Who is your favorite musical artist? Ugh…what's with picking just one? ? I'll narrow it down to categories:
Top female – lately I've been re-listening to Eva Cassidy (but I also love Nora Jones, Nina Simone, Patsy Cline, and SO many more).
Top male – lately it's been Bob Marley. I also like Van Morrison, Jack Johnson, Sting…you get me – variety is the spice of life.
Top bands – lately I've been obsessed with the Beatles Channel on Sirius XM. I'm surprised there are so many songs I've not heard, because I've been a fan since my teens. I also love the Eagles, Lynyrd Skynyrd, Michael Franti & Spearhead, and many, many more.
And Christmas music? I won't even go there – okay just one, the all-time great BING CROSBY.

Which website or app do you visit daily? My company intra and internet for research; Apps – Facebook, Instagram, Pinterest and Weather Underground (can't get dressed or pack for a trip without it). ?
What is your favorite restaurant? Hmmm – in Bartlesville, it's Senor Salsas – love the comfortable atmosphere, and the staff all know us and try to teach us Spanish. Much like the rest of my life, I like variety in my meals too. In Tulsa my husband and friends and I frequent Yokozuna, Lana Thai, and we love Kilkenny's weekend brunch. I recently visited San Diego, and I now have a lot of favorites there too!
How will we recognize you at the next IABC function? The next one will be the first one I've had the chance to attend in a LONG time. So, I'll be the person working the room to introduce myself to all the new faces.
Complete the following: The future of the field of communications is…even more important than ever. With the speed of change continuing to increase exponentially in the digital age, clear communication and a strong focus on change management is so needed. Without out it you lose understanding, engagement and ultimately the support of your target audience.
What advice would you give to new communications professionals? If after two written exchanges (email, texts, etc.) you still don't have clarity or understanding with the recipient, pick up the phone or meet with the other person and talk things through. This simple practice will save you and the other person a lot of time and frustration. It also works wonders in keeping misunderstandings from escalating.