 Research and Communication: The Investigative Process
Thanks to an anonymous donor, all attendees will be entered into a drawing to win $100!

Objectivity is the goal of most communication, but it's often difficult to separate drama from facts. A helpful tool in maintaining the objectivity standard is the investigative process, which is where speaker Leah Wietholter excels.

The investigative process isn't reserved for just investigators and accountants, though. It can be used in any profession where you need to understand facts; decide what's true and what's not; and translate the story for an audience. 

What You'll Learn: The investigative process and where information intersects.The best evidence to rely on for analysis.When to use the investigate process through case studies on actual events.
When: 11:30 a.m. to 1 p.m. June 19
Where: Tulsa Country Club, 701 N. Union Ave., Tulsa, OK 74127
Fee:
IABC Member fee: $25
IABC Non-member fee: $35
Student fee: $15

About Leah Wietholter
Leah Wietholter is the Managing Director of Workman Forensics in Tulsa, Oklahoma. A private investigator and Certified Fraud Examiner, she is an expert in following patterns.

While working for the FBI, Wietholter discovered an interest and talent for forensic accounting. She then worked as a Senior Certified Fraud Examiner at a public accounting firm before opening Workman Forensics where she helps each client become a modern-day Sherlock Holmes.

Using her 15 years of experience, Wietholter has created a new interactive continuing education experience – The Investigation Game (investigationgame.com). The game-based trainings allow attendees to not only hone their investigative and data sleuthing skills but also work a real-life case study in a collaborative team environment.

Wietholter serves is a member of the Association of Certified Fraud Examiners Advisory Board and volunteers as Treasurer for the Tulsa Crime Stoppers. She holds an undergraduate degree in accounting from Oral Roberts University and an MBA from Oklahoma State University.


Congratulations to the 2019 Bronze Quill Winners
IABC/Tulsa celebrated outstanding communications and recognized top local communications professionals on April 25, at the annual Bronze Quill Awards Ceremony. The event, attended by 100 local professionals, was held at the Central Library in downtown Tulsa for the second year in a row.

The event honored dozens of professionals in the communications field. Four special awards, 31 Awards of Excellence and 12 Awards of Merit were handed out throughout the evening. 
Teryl Rose, ONE Gas Vice President of Environment, Safety and Health, was named the 2019 Communicator of the Year for his passion and outstanding contributions toward creating a strong safety culture at ONE Gas.
Becky Carver, Supervisor of Communications at ONEOK, received the John Hartman Professional of the Year award. Carver was recognized by her peers for her exceptional leadership, professionalism and all-around dedication to everything she does.
For just the second year, IABC/Tulsa presented the Rising Star award to recognize a dynamic, young communications professional. This year, Kayla Swan, Communications Specialist at Helmerich & Payne, received the honor.
The "Best of Show" Award, presented to the entry with the highest total score, was awarded to Beth Harris of Walmart for "The Scoop Internal Newsletter."
There were entries in 15 of the 24 categories and in total, 43 Bronze Quill awards were awarded to local communications professionals for their exceptional work. This year, the awards were evaluated by judges from chapters in Atlanta, Dallas, Detroit, Houston, Kansas City, Phoenix, South Carolina, Nashville and Central Oklahoma.
Congratulations to all the winners (see the full list)! To view more photos from the evening, please visit our Facebook page.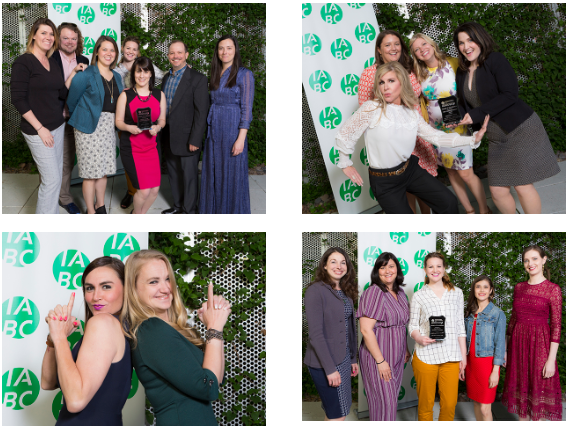 Save the Date for July 17: How to Stay Positive and Turn Negativity into Possibility 
Co-presented with the Tulsa Area Human Resources Association (TAHRA). 
The ability to stay positive and productive in the face of change, challenges and uncertain times is essential for career success. In this interactive presentation, you will learn how to stay motivated, respond to workplace challenges and rekindle passion for your career.
Registered attendees will receive a copy of Sarita Maybin's book "If You Can't Say Something Nice, What DO You Say?"
What You'll Learn:
Find out if your glass is half empty or half full.
How to cope with workplace situations that are beyond your control.
Twelve motivators that can keep you motivated at work.
Five ways to rekindle passion for your career.
How to communicate concerns in a way that will get the results you desire.
How to effectively protect yourself from the negativity of others.
How to use your "resiliency resources" to bounce back from adversity.
When: 11:15 a.m. to 1 p.m. July 17
Where: DoubleTree by Hilton – Warren Place, 6110 S Yale Ave., Tulsa, OK 74136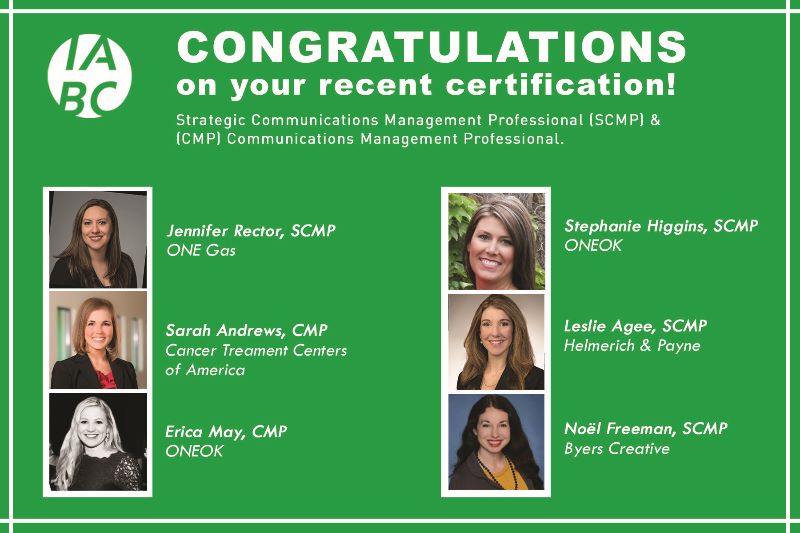 Congratulations to the these IABC/Tulsa members on their recent certification! For more information on how to obtain certification, go to https://gcccouncil.org.
Meet a Member: Michele Chiappetta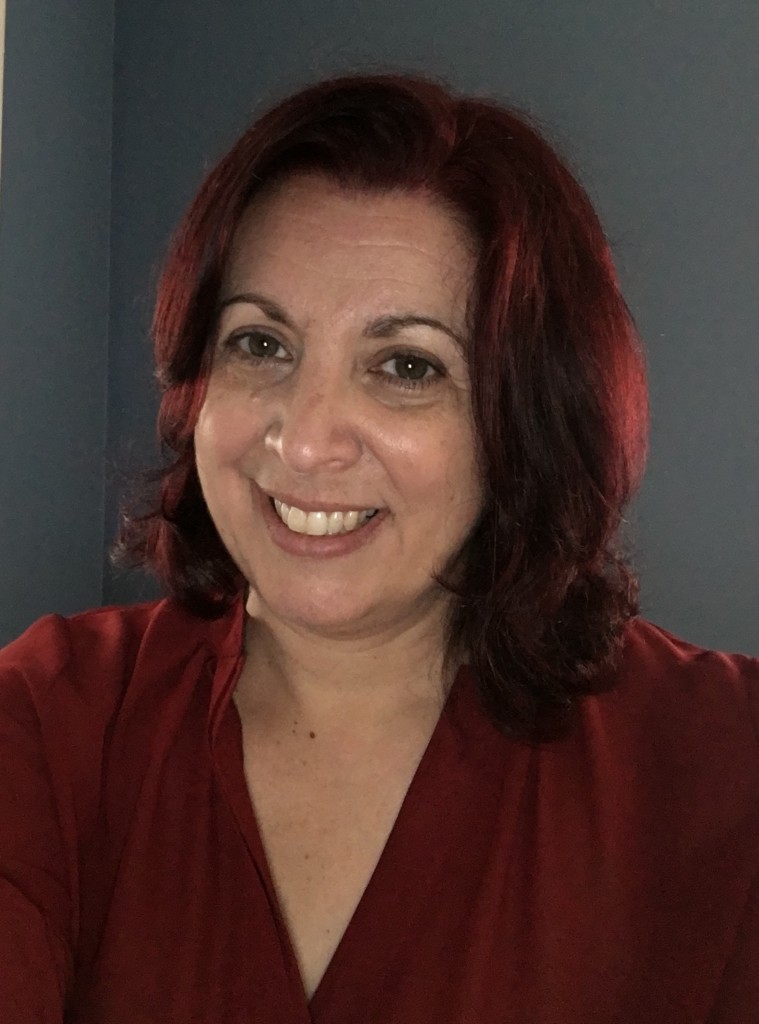 Title: Owner
Company: Chipper Muse Creative
Why do you love your job? I have always loved writing, but when I moved to Oklahoma, I finally had the opportunity to write and edit full-time for a local nonprofit. That's when I realized that sharing messages with the right words is a way to influence the world around me for good. It helps people. It helps businesses. And I love that.
How long have you been a member of IABC?Less than a year.
Why are you a member of IABC? I joined to meet other communications specialists that I might not otherwise meet in my normal day-to-day experiences. Working as a solopreneur can get lonely. IABC is a way to counter that solitude and be part of a community.

What is the best IABC meeting/conference you have attended? Why? I loved the meeting with Tulsa City-County Library's CEO, Kimberly Johnson. She is so inspiring, has a great story, and really exemplifies the way that women can help women succeed in the work place. I'd listen to her speak again in a heartbeat.

How has IABC played a part in your professional development? It has helped me make connections with other professionals, giving me ways to expand what I do. It also allowed me to give back through the Gift of Communication event, which is where I first connected with the Assistance League. I'm now doing some volunteer work with them, all because of IABC.

What is your favorite thing to do outside of work? I enjoy gardening, spending time with friends and family, and traveling.

What's your favorite vacation spot? All of them! I like exploring new places, preferably warm ones.

Who is your favorite musical artist? I like a good mix, anything from classic rock to R&B and jazz.

Which website or app do you visit daily? Facebook, Instagram, the Weather Channel. Lol

What is your favorite restaurant? I'm a fan of Molly's Landing in Catoosa – so fun, kitschy, and great steak. I also really like Bluestone Steakhouse, Smoke, and The Tropical. All of these places have great food and great service.
 
Complete the following: The future of the field of communications is…. Finding new ways to be heard and capture people's hearts and minds, balancing the fact that the marketplace is noisier than ever and yet makes so much more available to us than ever before.

What advice would you give to new communications professionals? Meet as many people as you can. Network. Communications is about people as much as anything else. Also, continually look for new things to learn and ways to grow your skillset. There's always something you don't yet know, but that is worth knowing.

Send a shout out to these members celebrating anniversaries in May.
May 8 – Jill McCune Burt
May 26 – Cody Bromley
May 13 – Joe Williams
May 15 – Brad Borror
May 25 – Angela Byers