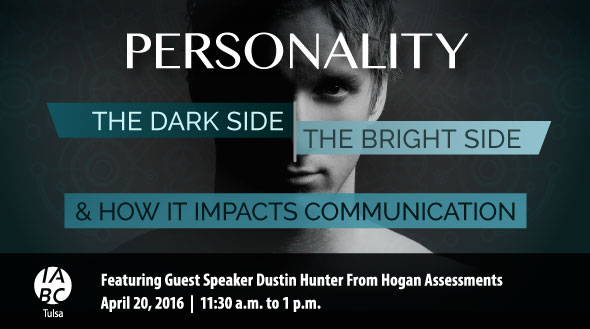 Personality underlies our behavior, actions, reactions, communication and interactions. Understanding personalities will give you insight into how to better execute business strategies, manage change, deal with conflict and relate to others. It can also provide you added insight on individual and team strengths, values and blind spots, as well as influence our effectiveness in collaborating with business partners.
Join us April 20 to hear Dustin Hunter, from Hogan Assessments, who will share how understanding personalities will help you be a better communicator.
When: 11:30 a.m. to 1 p.m., April 20, 2016
Where: Tulsa Country Club, 701 N Union Ave, Tulsa, OK 74127
IABC member registration fee: $25
IABC non-member/guest registration fee: $35
Student fee: $15
About Dustin

Dustin is the international distribution manager at Hogan Assessment Systems. He is primarily responsible for strategic planning and growth in Hogan's indirect business channel. Dustin has designed and implemented leadership development programs, selection-based assessment systems, high-potential programs and other talent management activities across a wide variety of organizational applications.
Dustin works with key domestic partners, multinational consulting companies, and international distributors to integrate Hogan's solutions into current business offerings (B2B). He also explores new alliance relationships in unrepresented geographies, and is responsible for negotiating contracts and forecasting growth for Hogan's global network.
Dustin holds a Master's in Educational Psychology and an MBA from Oklahoma State University. Prior to joining Hogan, Dustin held positions in marketing and business development. His academic background in psychology and business provide a foundation for his client engagements at Hogan.