It's December and another year is coming to a close. With every year that passes, I find myself saying "Where did the time go?" more often. A fun side effect of aging is your perception of time shifts to feeling like it's going by at the speed of light. To compensate for this inexplicable shift, I make an effort to be present and grateful. Taking time to appreciate the people, experiences and little things that bring joy and make me smile.

I find this exercise of reflection is also very important at work. Our profession is fast-paced, usually behind the scenes and often thankless. In this season of planning for the year ahead, we should all take time to think about the wins and moments that made 2018 great. Remember and acknowledge the work you've done, the things you learned and the relationships you built. It is important and should be celebrated.

While we're at it, let's celebrate the people that build us up and help make it all possible. For me, the IABC crew is always a big part of this list. I am immensely grateful to our wonderful board; their creativity, energy and friendship is priceless. And on behalf of the IABC Tulsa Board, we want to say how grateful we are for our members. Each of you is a special piece of what makes IABC great, and we appreciate you.

Wishing everyone a safe and happy holiday.

"Feeling gratitude and not expressing it is like wrapping a present and not giving it." -William Arthur Ward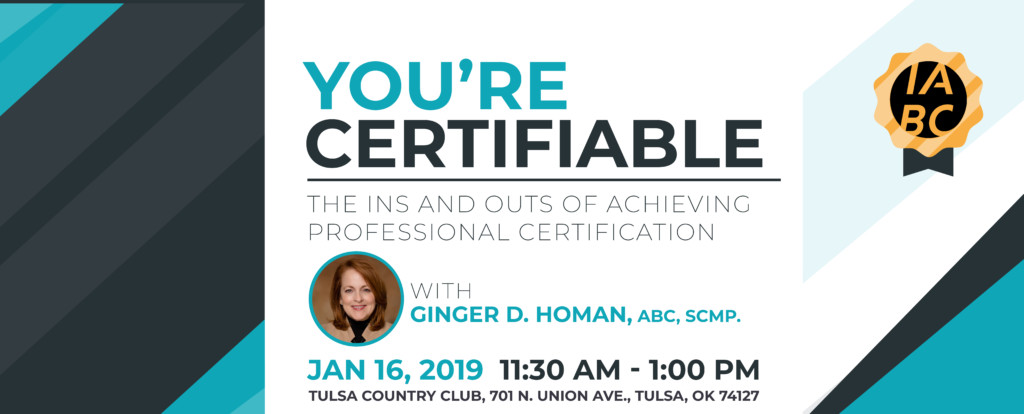 If you're worried that going through the certification process is crazy – think again. On average, those with a certification earn 18 percent more than those with the same education and no certification – but compensation is only one reason to consider certification.Join Ginger D. Homan, ABC, SCMP as she shares why you should get your "crazy on" and look at certification ahead of IABC/Tulsa's April 2019 exam date.If you have ever considered it, this is your opportunity to ask questions, learn about the exams, how to prepare and see if it is a fit for you.What You'll Learn:How certification can grow your career.How the process of certification works.How to maintain your certification.How certification can advance the profession.When: 11:30 a.m. to 1 p.m. January 16Where: Tulsa Country Club, 701 N. Union Ave., Tulsa, OK 74127Fee:IABC Member fee: $25IABC Non-member fee: $35Student fee: $15
Gather your work samples and prepare your work plans. Bronze Quill 2019 is now open for entries!

Bronze Quill recognizes outstanding employee communications, public relations, media relations, community relations, government affairs and marketing communication efforts. Bronze Quill is open to all communicators – members and non-members alike. Did you know, we also have student categories as well?

Submit your entries early and save! Visit the new entry site atiabctulsa.awardsplatform.com.

EARLY DEADLINE: MONDAY, DECEMBER 31
IABC members: $40 per entry
Non-members: $50 per entry
Non-profit and students: $30 per entryGo to IABC Tulsa's Bronze Quill page to download entry templates and guides to help you prepare your entry. The final deadline to submit your entries is Friday, February 15, 2019.

In addition to our entry winners, we will recognize three exceptional communicators. Review the descriptions below and nominate someone for a special award.
Communicator of the Year: Honors a member of the community for his or her contributions to the community through communications. This person is not a communicator by profession — but by passion.
Professional of the Year: Recognizes the outstanding achievements of an IABC member in his or her career, profession and community.
Rising Star: We will once again recognize a dynamic, young professional who has demonstrated outstanding ability and strong leadership within the communications profession.For questions, sponsorship information or to nominate an individual for one of the above awards, email awards@iabctulsa.com or call Ashley Cleveland at 918-947-7251.
IABC/Tulsa Judges Circle – Engage with our Chapter While Learning
Have you entered or won a Bronze Quill? Are you curious what communications programs and strategies other professionals employ at their businesses? Do you want another way to engage with our chapter but don't have a lot of time?

If you answered yes to any of these questions, consider joining the Judges Circle. This new group will be responsible for helping evaluate other chapters' local awards programs – and in return, they help judge our Bronze Quill awards.

Whether you're able to judge one or many entries throughout the year, your help is always appreciated. Plus, becoming an evaluator is a great way to improve your award entries and enhance your own strategic communication skills while finding new and interesting ways to approach communication challenges at your company.

"Judging entries for other chapters has been a great learning experience for me," said Ashley Cleveland, Senior Communications Consultant at ONE Gas. "I've been able to see what other communications professionals throughout the country are doing and how they're approaching some of the same issues I face at work. It's also really helped me improve how I approach my own Bronze Quill entries and was a factor in winning a few this year."

Whether you want to gain new ideas, get involved with the chapter through a low-time commitment or just improve your Bronze Quill entries (which is opening soon), consider joining and judging!

For more information or to join the Judges Circle, email awards@iabctulsa.com.
IABC Certification Coming to Tulsa April 13!
IABC is bringing the CMP (Communication Management Professional) and SCMP (Senior Communication Management Professional) certification exams to Oklahoma City on April 12 and to Tulsa on April 13, 2018. Here's what you need to know.

Interested in getting certified? Fill out this form and email it to us with details on which level you're interested in: Communication Management Professional (6-8 years of experience) or Strategic Communication Management Professional (11+ years of experience or by recommendation). We can share information about how to get the process started and help identify training hours completed with IABC.