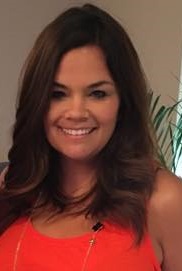 Title: Public Relations Specialist
Company: Cherokee Nation Businesses
Why do you love your job? My job allows me to serve my tribe while working in an industry I love. I am beyond blessed to collaborate with some of the most amazingly talented individuals, and together we share the history, culture and art of the Cherokee people. There is nothing more rewarding!
How long have you been a member of IABC? This is my first year as an IABC member, but I have attended and enjoyed events when possible throughout the past few years.
Have you ever served on an IABC Board? Not yet!
What is the best IABC meeting/conference you have attended? Why? I enjoyed the May 2017 lunch with Lance Latham. He spoke openly and honestly about past experiences and gave great insight to the impact having a seat at the table can make. It was a great reminder of why it is important to have public relations and communications built into the leadership team.
How has IABC played a part in your professional development? I am still new to the organization but have greatly enjoyed the events so far. The professional development opportunities are always spot on and leave time to network with peers.
What is your favorite thing to do outside of work? Family is everything to me, so if I am not at work I am likely spending time with my "people." I have an amazing husband and a 10-month-old daughter, Aubree Jean, who typically runs the show. I also enjoy baking, photography and cheering on my OSU Cowboys!
What's your favorite vacation spot? I am happy anywhere there is sunshine and love being on or near the water.
Who is your favorite musical artist? Garth Brooks. Hands down. Seeing him live at the BOK Center in 2015 was a DREAM!
Which website do you visit daily? Facebook, CNN
What is your favorite restaurant? Such a tough call. Either Mary's Trattoria or anywhere with good queso. I just can't say no.
How will we recognize you at the next IABC function? I'm a very proud OSU alum and am almost always wearing America's Brightest Orange!
Complete the following: The future of the field of communications is…always changing!
What advice would you give to new communications professionals? Don't wait for someone to give you permission to be awesome.